By Stephen Kangal
February 18, 2009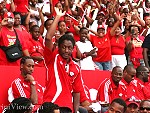 Those tired-looking and lethargic T&T Soca Stars played as if they were in the twilight zone of their career in San Salvador. They were a disorganized and uncoordinated outfit, lacking- in- both team spirit and fight bunch of footballers as if belonging to the Eddie Hart League. Mind you they had just returned from an expensive exposure to best soccer training facilities in Argentina at enormous expense to the tax-payers of this country.

There was no sustained, pre-rehearsed build up to their play. They were unable to control and retain possession of the ball for long periods of play and to distribute it effectively. They lacked the clinical precision in their passing that characterized the Salvadoreans.
The uncoordinated defence system lacked fight and determination in the face of the onslaught from San Salvador ten minutes from the end. They were going through the motions without any concern or patriotism for the image of T&T. They were a bunch of spoilt mercenaries (case before the English Arbitration) and opportunists who never gave a thought about their thousands of devoted supporters back home.
In the second half the San Salvadoreans mounted a Red Indian/Apache-style crescendo of raids in the T&T half. Our defence was hapless, indifferent and flat-footed. They had no counter-attack nor pre-determined technical strategy to get back the ball in the half of the home team.
The entire technical team ought to be given the pink slip and sent packing.
We cannot pay for such mediocrity.
These sockeye worriers caused me nightmare on Thursday night last.