By Richard Lord
Monday, May 30, 2016 – guardian.co.tt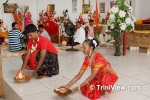 On the observance of Indian Arrival Day today, President Anthony Carmona says the indigenous Indian culture brought by indentured labourers benefitted not only T&T but the world.
In his Indian Arrival Day message, Carmona said East Indian culture has produced doubles, Trini roti and curry blend and chutney music. He said citizens must remember the journey of the East Indian forefathers during the current times of economic challenges He said the East Indian presence in T&T has also had a great influence on the Caribbean way of life.

According to Carmona the "Panchayat" was brought to the region by the East Indian indentured labourers. He said the "panchayat" was possibly one of the earliest manifestations of mediation and alternative dispute resolution (ADR).
Carmona said the panchayat system is structured community mediation at work and can be an important feature of restorative justice in the Criminal Justice System. Carmona, a former criminal judge and a strong advocate of restorative justice, said he used that "system at the end of the trial, sometimes upon conviction, to arrive at a just and fair sentence or penalty."
"The panchayat system should be used more in T&T to settle many instances of violence, criminal activity and social hostility, adding that T&T's greatest resource was its human resource."
PM Rowley: Ship of State will not destabilised
Prime Minister Dr Keith Rowley says the ability of citizens of this country to unite in diversity was one of the nation's greatest successes. In his Indian Arrival Day message, Rowley said that was greater than the successes in academia, diplomacy, music, fashion and sport.
Indian Arrival Day is being observed annually marking the arrival of the East Indian indentured labours to this country. This year marks the 171st anniversary of their arrival.
"We must be justifiably proud of ourselves for our enviable ability to live together, in unity, under God." He said T&T was a better country from religious observances such as Eid-ul-Fitr and Divali.
"Our East Indian brothers and sisters have made outstanding and invaluable contributions to the socio-economic development of T&T."
Rowley said while the country continues to grapple with unacceptable levels of crime and criminal behaviour the population was not prepared to give in to the criminal elements. He said his Government "will work tirelessly to ensure that the ship of State is not destabilised."
He called on citizens to "recommit to making T&T a country which stands as a lasting example of unity and strength in diversity."
Kamla: Let's preserve our country
Opposition Leader Kamla Persad-Bissessar, in her Indian Arrival Day message, is calling on citizens to do all they can to preserve the gains acquired by the nation over the past years. Persad-Bissessar said citizens have two choices: to barely exist and survive as separate groups or to stand together as a nation.
She said, "As the nation observes Indian Arrival Day today, citizens will do well to remember that T&T is a land of many people, those indigenous to our land and those who also arrived under starkly different conditions from the great civilisations of the world, Europeans, Africans, Chinese, Indians, the Middle East and elsewhere."
She said Indian Arrival Day offers people of Indian origin an opportunity for reflection about the journey and the footsteps of their ancestors and those from other origins an opportunity to reflect upon the journey and footsteps of their own ancestors.
Persad-Bissessar said such reflections will make T&T better able to understand and appreciate the trials and tribulations of "all our forefathers as they laboured to build the unique model nation we have become, a nation demonstrating unity in diversity."