TTUTA president urges reform
By JOEL JULIEN
Monday, April 25, 2016 – guardian.co.tt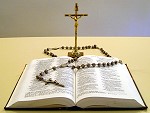 The partnership between the church and the state at our schools must be dismantled as it is detrimental to our country, president of the T&T Unified Teachers' Association (TTUTA) Devanand Sinanan has said.
Sinanan said the Constitution defines this country as a "secular state" and therefore questioned "why should the state give monies to certain religious bodies to perpetuate their faith?"

"We are a secular society and while we must be tolerant and respectful of each other's religious beliefs, we must not allow the lines that separate church from state to be blurred," he said.
"As leaders we have a sacred duty to challenge systems and arrangements that are inimical to the overall well-being of the society, even if it means we incur the wrath and anger of those that benefit from the maintenance of the status quo," Sinanan said.
Sinanan called on current Education Minister Anthony Garcia to review the Concordat "as it is inimical to the development our country" and "perpetuates a class differential." Sinanan said the "church-state arrangement is naked privatisation disguised as a partnership."
"The state gives monies, large sums of it, to private entities to run schools as they see fit, at their whim and fancy, to own conveniently when it suits them."
But even as Sinanan called for a separation of the two, Garcia signalled the government's intention to strengthen the bond between church and state.
"We looked at violence and indiscipline in our schools and this is an area where really and truly TTUTA and the Ministry of Education have been holding hands in working together," Garcia said. Garcia said the 1960 Concordat was being looked at.
"It is never our intention to diminish the role of the church in education in fact it is our intention to strengthen the role the church can play in education," Garcia said.
Sinanan and Garcia were speaking at TTUTA's 37 anniversary function held at Centre Point Mall's Auditorium on Saturday night. Teachers who retired over the last calender year recognised were given special tokens and a certificate.
Source: www.guardian.co.tt/news/2016-04-25/dismantle-church-state-partnership