Experts on Imbert's IMF, World Bank move
By Shaliza Hassanali
Saturday, April 23, 2016 – guardian.co.tt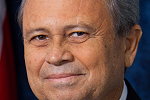 There was no need for Minister of Finance Colm Imbert to engage officials of the International Monetary Fund (IMF) and the World Bank to provide advice on T&T's fiscal policy.
This was the view yesterday of developmental economist Dr Ralph Henry and former minister in the ministry of finance Mariano Browne, following Imbert's announcement on Thursday that World Bank officials are in T&T to assist and advise the Government on pressing matters, including a review of expenditure in all key areas.

Henry said T&T has done a lot on its own and did not require advice or expertise from the IMF.
While T&T's transfers and subsidies were huge, Henry said, "We don't need anybody from outside to tell us that we need to look at it. Maybe you are looking at the IMF and World Bank to bless what you know you need to do. We have that problem. It is something very colonial. We don't think we can do certain things unless we get somebody from outside…from foreign."
Browne supported Henry's argument, saying he did not see the need for the IMF and World Bank's presence since T&T is capable of making its own decisions.
"There is nothing preventing him (Imbert) from crafting policies and then talking to the IMF and World Bank privately. Why bring them in? The only thing that I could read into bringing the IMF in is that he wants to get at the Heritage and Stabilisation Fund immediately," Browne said.
The HSF has investment worth an estimated US$5.7 billion.
Browne said he was bemused and amused that Government was going back to the IMF and World Bank for advice "when we said these were the people we did not want to go to at all. He (Imbert) is trying to validate that they are doing the right thing and we are consulting. He is also signalling that the ministry does not have the relevant technical expertise. If this is the case, then we are up a real gumtree."
Browne said to dip into the HSF, Imbert would have to make changes in the law.
"The IMF could help him make those changes quickly. Then he would get additional revenue and US dollars."
He said some of the decisions taken by the Government have the nation in a state of "uncertainty. The country's back is against a wall. We have been for quite some time."
While Browne blamed the People's Partnership for the state of the economy because of their wanton spending, he said the People's National Movement has been slow and lacked "political will" in making the right choices.
"We are heading down a slippery slope," he warned.
Henry said when a country is in financial difficulty and calls on the IMF for help, what they would offer was a "standard package…that would review a reduction in the public service, minimum wage legislation, privatisation of some state agencies and devaluation of its currency."
In the 1980's when National Alliance for Reconstruction leader and former prime minister ANR Robinson turned to the IMF for help due to a fiscal crisis, the population did not welcome the news.
"The problem was the message. Unfortunately the NAR had to introduce austerity measures which citizens objected to. They introduced VAT, cut salaries of public servants by ten per cent and removed COLA (Cost of Living Allowance). Robinson was put between a rock and a hard place."
He said Imbert, on the other hand, has far more flexibility than Robinson did.
Full Article: www.guardian.co.tt/news/2016-04-23/no-need-outside-help