Office of the Prime Minister orders $2 million vehicle for Rowley's fleet…
Published on Apr 3, 2016, 12:01 am AST
By Anna Ramdass and Camille Hunte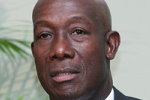 A new Mercedes-Benz S-Class (W222) valued at $2 million has been purchased for the official use of Prime Minister Dr Keith Rowley.
The Sunday Express understands the vehicle was acquired through local dealer Sterling Services (Battoo Brothers) Ltd and was at the company's Sackville Street, Port of Spain, garage up to yesterday, being customised for official use.

Interviewed by the Sunday Express at the Hyatt Regency (Trinidad) hotel in Port of Spain yesterday, Rowley told the Sunday Express he presumed if the Office of the Prime Minister orders a new vehicle, it would be for official use.
http://www.trinidadexpress.com/20160403/news/new-benz-for-pm