By Nalinee Seelal
February 25 2016 – newsday.co.tt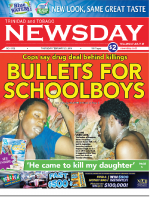 TWO teenaged schoolboys were shot dead in a lonely, bushy track off St John's Road in St Augustine on Tuesday afternoon in an incident police investigators say was linked to a drug deal which had gone sour.
The victims have been identified as Daniel Hall, 16, of Tunapuna and Stephan Singh, 17, of Enterprise, Chaguanas. Hall was a Form Four student of the Aranjuez North Secondary School and school officials confirmed that he had attended classes on Tuesday prior to being murdered. Singh sources said, attended the St Augustine Secondary School.

Police officers who were called to the scene after residents of St John's Road heard rapid gunfire, came across the bodies of Hall and Singh, with the latter suffering a gunshot wound to the back of the head.
Hall was found with a .38 revolver stuck in his pants waist. Police were yesterday trying to ascertain if the schoolboys had criminal records and/or court cases.
Full Article : newsday.co.tt