By Raffique Shah
January 27, 2016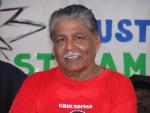 As a nation, we can do nothing about the plunging price of oil except watch with alarm as crude slides below US $30 a barrel.
Even if we ramp up production, which has fallen by approximately 50 per cent over the past decade, it will make little sense. At this point, it might be better to leave the oil in the wells rather than sell it for peanuts.

Besides depressed prices for oil, gas and petrochemicals, we also watch with dismay as China's economy stalls (hence less demand for commodities), North America and Europe enjoy a relatively mild winter (lower use of fuels for heating), and other developments that signal to us that Trinidad and Tobago faces its biggest economic crisis since the 1980s-1990s.
So what can we do other than sit back and hope for divine intervention?
We could choose the "Burnham option". The late Guyanese dictator Forbes Burnham, faced with an imminent military threat from Venezuela, is said to have rallied his troops with the battle cry, "Back to back, belly to belly, we don't give a damn, we done dead already!"
Or we could play the blame game, point fingers at politicians who looted the Treasury and wasted the oil-bounty when prices were high. Even if we hold them to account, jail some of them, that won't alter the price of cocoa…or oil.
I suggest we look at things we can do that will make T&T a better country.
With respect to corruption, we the people must start by refusing to bribe any public official for services we are entitled to, from driving permits to land deeds, housing to places in schools that our children deserve based on merit.
We must hold Prime Minister Keith Rowley accountable for any wastage or corruption that occurs under his watch. The PNM was elected to office largely because the PP Government was seen as corrupt to the core, and he, Rowley, said that if he became PM, he would stamp out wastage and corruption.
If we eliminate corruption that has long been considered an integral part of doing business in the country, we can save hundreds of millions of dollars, maybe even billions, annually.
Score one on the positive side of the Exchequer's balance sheet.
Then there is the multi-billion-dollar sleeping giant-productivity and the national work ethic, or lack thereof.
If we are brutally honest with ourselves, we will admit that among the majority of the workforce, and that runs from the shop floor to executive suites, productivity runs at maybe 50 percent, and I am being generous here.
The national work ethic is defined by us doing the least we can to not get fired or suffer loss of income. Our motto seems to be "least work, most pay". We take every manner of leave that is available to us, and that on top of enjoying the most public holidays for any country, and an unproductive Carnival month on top of these.
In other words, although most people (managers included) are supposed to render eight hours of work a day, when you factor out leave and "locho" time, we probably do four hours' productive work.
If we reduce down-time and deliver just six hours work a day (and at some time I propose to argue in favour of the six-hour work-day as being potentially more productive than eight), the economy would boom, GDP would grow and the nation would prosper even in tough times such as we face now.
And you know what? As unproductive as we are, in 2013, a Eurostat exercise that examined GDP per hour worked (per capita), ranked T&T 24th out of 65 countries listed.
Think of what we can achieve if we really apply ourselves.
What we need is for General Rowley to motivate and mobilise the workforce-army, mount a mission to save the country from implosion, call on every working citizen to do his or her duty in the national interest.
This is war. There must be no surrender to collapsing oil prices, no white flag on our economic door.
Crises, it is said, spawn opportunities, but none more so than the current one.
Herein lies the opportunity to eliminate the cancer of corruption, radically reform the work ethic, redefine the national watchword production, and stimulate the kind of patriotism we have seen in the past only when our sporting heroes have scaled global heights.
If we successfully repel this assault on the national economy as a people united, while the General might enjoy some glory, it is we the people who would be exalted.
No leader, no government, present or future, will ever take us for granted.
Our destiny is in our hands.