By Andre Bagoo
September 12, 2015 – newsday.co.tt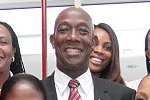 PRIME Minister Dr Keith Rowley, 65, yesterday described his Cabinet as one built on youth, as he unveiled a team of ministers in which 17 out of 23 are firsttime ministers.
"I hope you will observe a changing of the guard," Rowley said in an address after the new ministers were sworn-in at a ceremony at Queen's Hall, St Ann's. "There was a time when to hold high office in this country one had to be very senior in age and long in meritorious experience. You will have seen a lot of our young people cross this stage today and what that means is that we have put the affairs of State into the hands of a lot of young people in Trinidad and Tobago. Among them are a few hopefully sufficiently experienced ones who will provide them with guidance." The PNM political leader also thanked youth for coming forward to serve in the People's National Movement (PNM).

"I want to thank the young people – particularly the young people who have come forward and contested the election and won seats – and some who are not so young," Rowley said. "The Mighty Sparrow says age is just a number. Yeah right. We of the Cabinet will go on with boundless faith in our destiny and see to the development of Trinidad and Tobago." The first-time ministers in the Cabinet include: Stuart Young, 40, (Minister in the Ministry of the Attorney General and Legal Affairs); Nicole Olivierre, 44, (Energy); Randall Mitchell, 36, (Public Administration); Shamfa Cudjoe, 33, (Tourism); Darryl Smith, 42, (Sport and Youth Affairs); and Dr Nyan Gadsby-Dolly, 37, (Community Development, Culture and the Arts).
Other first-timers are: Dennis Moses (Foreign and Caricom Affairs); Clarence Rambharat (Agriculture); Maxie Cuffie (Minister of Communications); Anthony Garcia, 66, (Education); Terrence Deyalsingh, 58, (Health); Jennifer Baptiste-Primus, 61, (Labour, Small and Micro Enterprises); retired Brigadier General Ancil Antoine (Public Utilities); and Cherrie- Ann Critchlow-Cockburn, 56, (Social Development and Family Services).
At the same time, the new Cabinet has some familiar faces. In previous PNM administrations under Patrick Manning, Minister of Finance Colm Imbert served as Minister of Works; Minister of Housing and Urban Development Marlene Mc Donald served as Minister of Culture; Minister of Planning and Development Camille Robinson- Regis had served in this ministry before; Minister of Rural Development and Local Government Franklin Khan served as Minister of Works and Transport; Minister of Trade and Industry Paula Gopee- Scoon served as a Minister of Foreign Affairs; and Minister of Works Fitzgerald Hinds as a Minister in the Ministry of National Security.
They join Attorney General Faris Al Rawi, 44, and Minister of National Security retired Major General Edmund Dillon, appointed on Wednesday. But young and old alike will have to account to the Prime Minister, Rowley made clear.
Full Article : newsday.co.tt