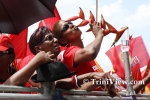 After months of heavy political campaigning, the PNM edged victory in the September 7th general election, prevailing over the Kamla Persad-Bissessar-led regime with 23 seats to the PP's 18 seats. Although a visibly tight race, the PNM managed to capture some key constituencies including the two in the island of Tobago to secure its victory.

In the view of some political commentators, Dr. Keith Rowley was gracious in his victory speech as the country's choice for leader. He declared, "From the results, I am pleased to announce that the PNM would have won these elections and Trinidad and Tobago from tomorrow would have a new Government. I think that I want to thank all the people in our organisation, members and supporters, for the very hard work that they did in bringing us a successful end in what was in effect a very difficult and duelling election. I want to thank Trinidad and Tobago for demonstrating once again that we can conduct ourselves in a manner that is worthy of the name Trinidad and Tobago."
However, commentators were critical of Mrs. Bissessars' choosing her Siparia constituency over the UNC base of Rienzi complex as the venue for her concession speech, as well as for not congratulating Dr. Rowley directly on his victory.
Next on the PNM's agenda is the swearing-in of Dr. Rowley as Prime Minister as well as an Attorney General followed by other government ministers.