By Gail Alexander
September 8, 2015 – guardian.co.tt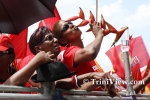 The People's National Movement's fourth leader, Dr Keith Rowley, now Prime Minister-elect, will be T&T's second Tobago-born Prime Minister following yesterday's 2015 general election victory.
Rowley follows Tobago-born late Prime Minister Arthur NR Robinson into history in this regard.

Mammoth cheers from supporters went up at PNM's Balisier House headquarters at 11.40 pm last night when PNM chairman Franklin Khan announced the party's election result victory, adding: "I now invite to address you, the new Prime Minister of T&T."
Speaking to the media just before the announcement, Rowley had said: "We have been tracking these results and the PNM would have won the elections and from tomorrow (today) T&T will have a new government…the PNM has come out with the majority of seats…tonight is the beginning of another era."
Full Article : guardian.co.tt
~~~~~~~~~~~~~~~~~~~~~~~~~~
Kamla's car breaks down after concession speech
By Susan Mohammed and Sandhya Santoo
September 8, 2015 – trinidadexpress.com
HAVING lost the election, Kamla Persad-Bissessar suffered a final indignity this morning, as she prepared to leave her constituency office in Penal where she delivered her concession speech.
The Prime Minister's official car, PM 1, could not start, and had to be towed from the scene shortly after midnight. Persad-Bissessar accepted a ride home with a supporter driving a sub-compact.
Persad-Bissessar, who decided not to go to the party's headquarters at Rienzi Complex, Couva, spoke with members of the media surrounded by a small group of supporters. None were members of her government.
Full Subscribed Article : trinidadexpress.com
~~~~~~~~~~~~~~~~~~~~~~~~~
PNM wins 2015 General Election

By Multimedia Desk
September 07, 2015 – trinidadexpress.com
The Dr. Keith Rowley led People's National Movement captured 23 of the 41 constituencies to be declared winner of the 2015 General Election. The PNM improves on their 2010 showing where they won 12 seats to form the opposition.
The People's Partnership who had 29 of the 41 seats and formed the government over the past five years won 18 seats and will now be on the opposition bench.
The Independent Liberal Party led by Jack Warner did not make an impression with the voting public and failed to capture a single seat.
Source : trinidadexpress.com