By Kim Boodram
August 26, 2015 – trinidadexpress.com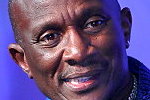 REJECTED by the United National Congress after being screened to be the general election candidate for the Mayaro seat, Winston Gypsy Peters has lashed out at Prime Minister Kamla Persad-Bissessar, describing her as conniving and ungrateful.
He has resigned the Minister of Community Development, and given up his membership in the UNC.

Peters broke his silence on his rejection at a press conference held the Hyatt, Port of Spain on Tuesday.
Attending the function was political leader of the Independent Liberal Party Jack Warner, but Peters told the media that he had no new political affiliation, yet.
Peters was in incumbent Member of Parliament for Mayaro, and the first person to turn up at Rienzi Complex, Couva when nomination forms became available last month.
The Prime Minister announced that Roger Morales would be the party's candidate, however, Morales lasted only two days before being replaced by Ruston Paray.
Peters said that after all he had done for Persad-Bissessar, she had been undermining his efforts in the constituency for a year and a half, and that no one had supported her more than him.
He said that at the screening, he was asked by Persad-Bissessar if he would be angry should be not be selected.
Peters said he told the screening, "I'd be very angry, as I am today".
Full Article : trinidadexpress.com