By Dr. Selwyn R. Cudjoe
August 18, 2015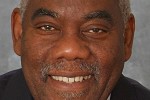 I was at Maloney on Wednesday evening when Dr. Keith Rowley analyzed the Government's laptop program. Dr. Rowley did not have to do much work since he read from a document that pointed out the introduction of laptops and the incorporation of ICT (Information and Communication Technologies) in our schools "had no statistically significant impact on student performance." It also found that staff and student groups registered "a relatively high dissatisfaction with the provision of internet service" and the implementation of the laptop program.

Dr. Tim Gopeesingh, the minister responsible for this fiasco, responded to Dr. Rowley's criticism. He contended that Dr. Rowley used the findings of one research study; that laptops were being used in schools in many other countries; and that two years ago that President Obama "asked for IT companies to give support for IT to be included in underprivileged schools in the US…and ten companies gave over $100 million each" (Express, August 14).
Asking companies to give support for IT programs as President Obama did is not the same thing as giving out laptops to every student in a school. The internet is simply a global system of interconnected computer networks from which all kinds of information can be accessed. Giving each child a laptop is not necessarily inconsistent with acquainting a student with the use of the internet although such an acquaintance does not necessarily lead to better educational outcomes.
Dr. Goopeesingh then informed us that two years ago he went to a conference attended by 102 ministers of education. He says two important considerations emanated from that conference: "If ICT is left out of education, the country would be left behind; b) student-centered development was [he should have said "is"] critical." ICT is defined as all technologies that are used for the handling and communication of information and include, among other things, computers, audio-visual systems, the internet and virtual learning systems.
This is not a response to Dr. Rowley's concerns. In fact, Dr. Gopeesingh indulges in what is called an association fallacy; a belief that one can refute another's position by pointing to meaningless associations. Any educator worth his salt accepts that knowledge ICT is critical to student's education but that was not the argument Dr. Rowley's and the author of the study made. They argued that little educational value is derived from the use of laptops in our schools, a point the author supports with overwhelming evidence gathered from a study that was conducted over a year.
One would have thought that after five years of this highly-publicized educational intervention the Ministry of Education would have conducted its own study to find out how teachers have been using this tool and how it has advanced the education of our students. But this was not the case. The Minister can produce no evidence to substantiate the educational value of giving out laptops to Trinbagonian students.
Between 2010 and 2013 our Government distributed 54,329 laptops to our schools at a cost of millions of dollars to our taxpayers. Yet, after this tremendous expenditure the minister cannot make a coherent argument-either by way of empirical data or reasoned argument-to disprove the truth content of the researcher's conclusions. It's not good enough to say that it is one of "hundreds of research papers" on the subject matter without citing another such study.
The minister of education-and his entire staff-should be able to come up with a coherent response to criticism made by the researcher about the shortcomings of this program. While the study upon which Dr. Rowley drew involves a small sample of students, can the minister cite any study that was done in Trinidad and Tobago on this program? Can the minister even tell us how effective this program has been within the context of our students' education?
It might be helpful to remind the minister of the words of Irina Bokova, UNESCO Director-General: "Technology can be a powerful education multiplier, but we must know how to use it. It is not enough to install technology in a class room-it must be integrated into learning."
It is a lesson that Dr. Gopeesingh and the PPP, in their haste to outdo the PNM, forgot to consider when it implemented its laptop program. The nation is now paying for it.