By Keith Subero
August 04, 2015 – trinidadexpress.com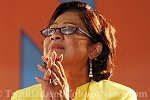 If the Prime Minister, her PR handlers, and state-owned CNMG television intended to produce 90 minutes of absurd theatre then they should claim last Thursday night a "brilliant success".
The concept of the Theatre of the Absurd is recognised for its seemingly meaningless and repetitious dialogue. Its plots are usually confusing, empty, disjointed, unrealistic, and intended in some way to identify futility in the human condition.

CNMG's "Leaders Exchange" television show was all of the above – except that it could not be lauded, because it was simply bad theatre. Television, like a stage production, is about creative concepts, refined casting, imaginative presentations, with genuine, not hypocritical performers, supported by off-camera professional direction and lighting.
How did the "Exchange" match up? As a concept, it lacked basic credibility. From the start, there was public suspicion that the Prime Minister would never face the Opposition Leader in any debate, and her PR handlers somehow would devise a ruse to avoid a televised exchange.
The casting? Instead of working journalists, they plucked a hodge-podge panel, comprising the antediluvian political busybody Morgan Job; talk-radio host Isha Wells, a spokesperson, I guess, for the restless youth, and respected political analyst Derek Ramsamooj.
As expected, Dr Job dawdled. Eventually we were able to decipher that he was attempting to ask the Prime Minister whether she would create "a cultural revolution" if re-elected.
Full Article : trinidadexpress.com