PM, AG on Emailgate counter-attack
By Yvonne Webb
May 19, 2015 – guardian.co.tt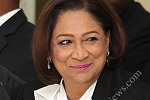 Prime Minister Kamla Persad-Bissessar last night called on Deputy Director of Public Prosecutions Joan Honore-Paul to step aside in the Emailgate matter over a statement she made on the issue last week.
Her comments came hours after Attorney General Garvin Nicholas expressed his disappointment and concern over Honore-Paul's judgment last week in criticising Persad-Bissessar for suggesting that she and her colleagues had been cleared in the probe when the case was still open.

During a cottage meeting in Tunapuna yesterday, Persad-Bissessar said she had asked her lawyers to peruse the deputy DPP's statement and they would now call on her to recuse herself from the matter since she had demonstrated a clear bias.
Full Article : guardian.co.tt
~~~~~~~~~~~~~~~~~~~~~
STEP ASIDE
Prime Minister Kamla Persad-Bissessar claimed last night that deputy Director of Public Prosecutions (DPP) Joan Honore-Paul showed bias in the release she issued last week and her lawyers intend to file a complaint against her with the Judicial and Legal Services Commission (JSLC).
…Attorney General: Bat in your crease
Attorney General Garvin Nicholas has written to deputy Director of Public Prosecutions (DPP) reminding her to stick to her "constitutional purview" and desist from making comments that would call the independence of the DPP's Office into question.
All eyes on Mark
Motion to rescind Rowley's suspension