By Anna Ramdass
May 8, 2015 – trinidadexpress.com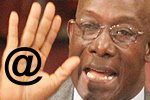 ON THE heels of being suspended from Parliament over Emailgate, Opposition Leader Dr Keith Rowley last night exposed more e-mails.
This time he has shown new e-mails which allege that $60 million was transferred from First Citizens bank to three foreign banks.

Speaking at a People's National Movement (PNM) meeting in Arima, Rowley said he received a string of e-mails from a whistleblower who was concerned about the status of investigations into this matter.
The money, said Rowley, was transferred from the account of the National Energy Corporation (NEC) to banks in the United States and Dubai and to an attorney's office in Antigua.
The e-mails Rowley had in his possession detailed the transaction amounts and the dates—the transfers took place in September 2011.
Rowley said NEC lawyers picked it up and investigations were started.
He said another e-mail purported to have come from Interpol where requests were sent to security officials in Antigua and Dubai asking for information and assistance in the investigation.
Rowley said there were three separate unauthorised wire transfers and one of the e-mails drew it to his attention that no action has been taken against the perpetrators.
These e-mails, said Rowley, will never get into the Parliament under the present Government.
He noted that Finance Minister Larry Howai was in charge of FIrst Citizens at the time when the unauthorised transactions were said to have taken place.
Source: www.trinidadexpress.com/news/Rowley-exposes-new-e-mails-303042111.html