By Stephen Kangal
April 09, 2015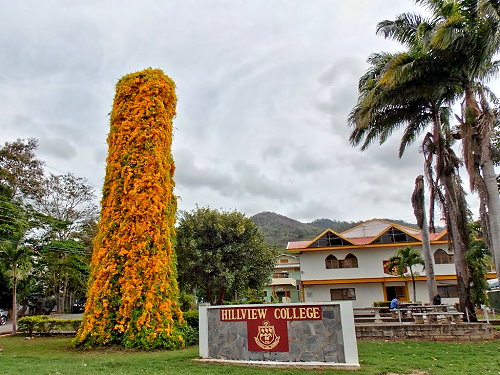 Hillview College, founded as Naparima College, Tunapuna Branch on 17 January 1955 inaugurated the celebration of its Diamond Jubilee with a Thanksgiving and Plaque Dedication Service held at the Aramalaya Church on 17 January earlier this year. Delivering an inspiring and fitting message was the Moderator of the Presbyterian Church, the Rt. Rev'd Brenda Bullock, graduate of Iere High School shown below.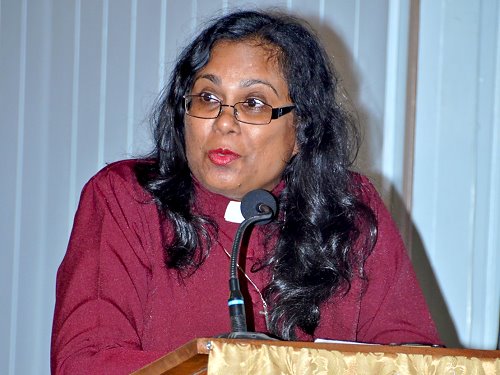 Rt. Reverend Brenda Bullock
The Service was intentionally held at Aramalaya to pay tribute to the elders of this Church who in 1951 started to lobby Presbytery for the establishment of a Boys Presbyterian Secondary School in Tunapuna. This came to fruition in January 1955 with 44 pioneering students on the grounds of Morton House. It was then relocated to a modern educational facility built at the foothills at El Dorado Road, Runapuna in September 1957.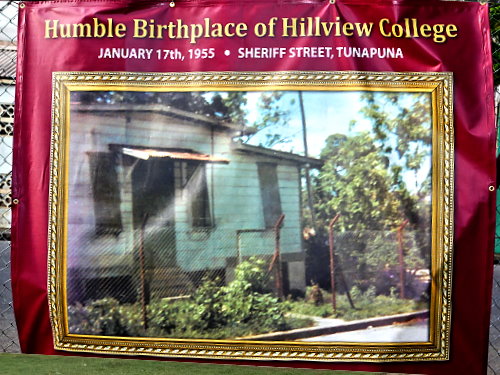 Original Site of Hillview College on Sherrif Street
Earlier on 10 January the Hillview Old Boys Association (HOBA) officially launched the Anniversary logo (attached) at its 60th Anniversary Gala Dinner, Awards and Launch Function held in the College Auditorium.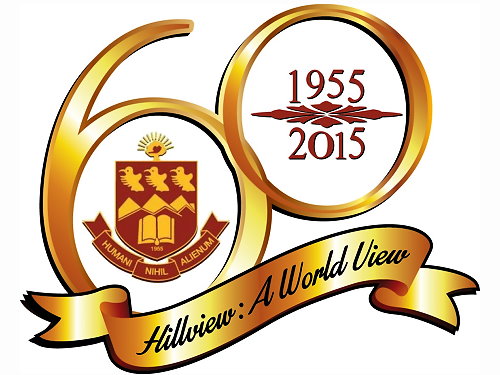 HOBA honoured former students Professor Dr. Dyer Narinesingh, President of UTT, Mr. Stephen Kangal, Mr. Patrick McNeilly (steel-band impresario) and the College cricket coach Richard Kelly Snr.
Amongst those attending this Dinner were Ministers, Senator Kevin Ramnarine and Rudranath Indarsingh graduates of Hillview.
The College also held its 60th Anniversary Founders' Day Service on Monday 19 January at the College with the Minister of Education Dr. Tim Gopeesingh delivering the feature address and turning the sod for the $15m expansion (see photo below) to include a new Assembly Hall and Staff Room at Hillview College. Greetings came from the General Secretary of Synod and Chairman of the Presbyterian Secondary Schools Board.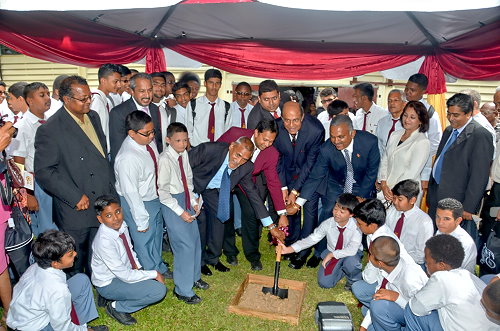 Minister of Education Tim Gopeesingh turning the sod to start $15m expansion at Hillview
At the end of the Service the students and staff undertook a commemorative march along the Eastern Main Road to the original Sheriff Street site of the College to the music of the Prison's Service Marching Band.
All three events were broadcast live via Radio Heritage 101.7 with the help of generous sponsors.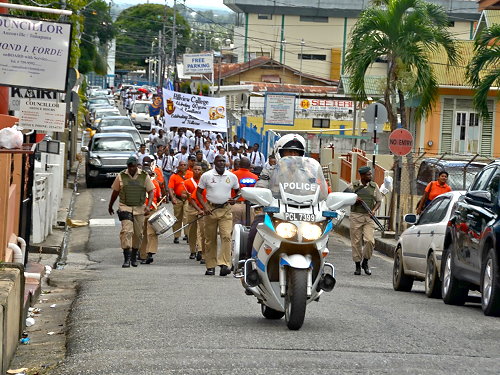 Marchers on Cochrane Street, Tunapuna
The 60th Anniversary Celebrations Committee of Hillview College consisting of the Administrative Committee, the Staff, HOBA and the PTA has arranged a full year of commemorative events that will terminate in December 2015 with a Xmas Dinner and Parang Music.
This Committee sends congratulations to its sister college, Iere High School on the historic and eventful occasion of its own Diamond Jubilee having been established on the same day in Siparia as Hillview that is to say 17 January 1955.