By Dr. Selwyn R. Cudjoe
April 01, 2015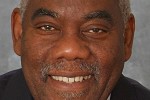 This is Holy Week for 1.7 billion Christians all over the world. It is a time when Christ overcame his detractors. Betrayed by one of his disciples and condemned to death, he rose triumphantly three days afterwards, which is celebrated as Easter Day.
Over the past week Dr. Keith Rowley's detractors have berated him, condemned him to political death and sought to entomb him in a political grave. Rather than reject Vernella Alleyne Toppin's venom unequivocally, the UNC hierarchy clings to the illusion that Dr. Rowley still has questions to answer. Our learned Prime Minister insists she accepts parts of Alleyene Toppin's accusations against him.

But during this Easter week, I can say with certitude that in the next three or four months Dr. Rowley would emerge in glory from his intended political demise. The UNC has thrown its best shot but have entangled itself in its Anansi moment.
For those who have forgotten, one version of the Anansi story reads as follows. Once upon a time, an old woman planted a large field of pigeon peas. Unwilling to plant his own field, Anansi pretended to be dead so he could steal this old woman's peas. Fed up with the constant thieving, the woman's son, got some tar, painted a stump and put a hat on it.
One evening when Anansi came to steal more peas he saw a figure protecting the field. He said: "Good evening, sir!" He received no reply. Again he said, "Good evening, sir!" He received no reply. He then said, "If you don't speak to me I'll kick you!" He kicked the stump with his right foot and the tar held it there like glue.
He then said: "Let me go, or I'll knock you down with my right hand." He struck the stump with his right hand which also got stuck. Then he raised his left hand and said, "If you don't let me go, I will hit you with my left hand." Eventually, his left hand as well as his left foot got stuck, which left him suspended in air where he remained until the next day, the laughing stock of all.
The next morning Anansi felt so ashamed that he retired to his hole where he remains to this day
The rogue element of the UNC may see Africans in all the derogatory terms in which Jaishima Leladharsingh described us. They may even see us as a benighted beings. However, they do not understand that Africans are a strong, resilient people whose culture gives them the strength to prevail. In other words, the more one tries to kick us down, the more we arise reinvigorated and re-strengthen.
Africans have always been a God-fearing people. In his letter to the Ephesians, St. Paul, admonished: "Be strong in the Lord, and in the power of his might." He advised them further: "Put on the whole armour of God, that ye may be able to stand against the wiles of the devil." The 542 million African Christians take these admonitions seriously.
African people understand there are those who will come in the name of the Most High offering manna of every kind-be it a secondary school or a trade school-to those whom Leladharsigh describes as "stinking, low-class niggers;… bastards who never had to fight or work for anything."
Africans are neither overwhelmed by such manna nor besmirch by aspersions cast in our way. We remember Matthews's warning: "Beware of false prophets, who come to you in sheep's clothing, but inwardly they are ravenous wolves."
We are also helped by our folk wisdom which says: "If the frog tells you the crocodile has sore eyes, believe him." Translated: "In the testimony of one man concerning another, his neighborhood and similarity of habits and living should be allowed great weight" (J. J. Thomas, Theory and Practice of Creole Grammar.)
The country has heard the imprecations of our detractors and the malignity of our own used as an instrument of evil. But it is the destiny of all of us-the people of goodwill–to heal the nation's wounds. In spite his tribulations Dr. Rowley shall quench "the fiery darts of the wicked."
Like Anansi, his detractors shall be unmasked, forced to run back into their holes and allow him to take his rightful place in our society.