All ah we is one, right?
By Reginald Dumas – March 31, 2015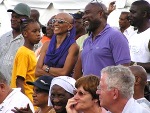 In April 2014 Jaishima Leladharsingh said in an insensitive Facebook comment said that he was "glad (ANR) Robinson (had) gone forever." Soon after, he launched a racial assault on Anthony McLeod, whom he didn't know but who he obviously thought was black. McLeod's photo in fact shows him a mixed race person. Leladharsingh was clearly misled by the name: he must have assumed that Anthony looked like Errol. The Minister should take note.

For Leladharsingh, McLeod was a "stinking, low-class nigger" who should "f…" himself, who was a "parasite", and one of those "bastards (who) never had to fight or work for anything." As soon as his remarks hit the fan, Leladharsingh offered McLeod what he said was a sincere apology, explaining that he had "acted in rage." McLeod magnanimously accepted those words. I commend him.
It turns out, however, that months earlier, in September 2013, Leladharsingh, also apparently in a Facebook post, had sneered at "pushy and gullible niggers" who could easily be manipulated into "enhanc(ing) the look of the (Government)." McLeod was not around then.
Full Article : trinidadexpress.com
~~~~~~~~~~~~~~~~~~~~~~~
Understanding the House Slave
By Theodore Lewis – March 31, 2015
Keith Rowley finds himself a black man in this society, and he has the ambition to be Prime Minister. We would think that here in the Caribbean blackness would be a somewhat normative expectation for what a Prime Minister embodies. African slaves after all had been brought to the region since the 15th century. Their descendants should find it commonplace that they would number among the region's leaders.