By Raffique Shah
February 08, 2015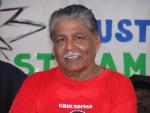 I sense that Prime Minister Kamla Persad-Bissessar has cast her political fate to the wind, doing what she thinks she needs to with mere months to go before a general election. I suspect, too, that she no longer heeds her advisers, that she acts of her own accord, and will continue to do so for as long as she remains captain of the badly listing pirogue, the SS UNC-2.

Ample evidence of this don't-give-a-damn posture was on show last week when she shocked everyone, including her cabal of ministers, by her wielding of a sharpened executioner's sword, in the process decapitating friends and foes.
The nation expected Attorney General Anand Ramlogan to kneel at the altar of expediency and offer his neck to the PM. Based on what was in the public domain regarding a matter that's before the court, Ramlogan was top of the list for decapitation. It was clear, however, that the sacrificial ram would not go solo, such was his standing in the PM's herd.
Enter the garrulous Gary Griffith who thought that the ethics he learnt at Sandhurst were applicable in the den of iniquity that is the Cabinet. Protesting and bleating, and stunned by the aspersions cast at him by the PM, he barely felt the blade as his head rolled into the basket, joining Ramlogan's.
Few would have been surprised up to that point. But on that fateful Night of the Long Knives, the PM had barely warmed up. Timothy Hamel-Smith, a bright and genial soul who offended no one, and who, by virtue of the position he held (President of the Senate) might otherwise be deemed sacrosanct, was summoned to the Kali-altar.
Like a lamb to the slaughter, Timothy meekly walked to the chopping block mumbling, "I guess I am expendable!" Chop! Timmy gone. As the population looked on in horror, many massaging their own necks to ensure they were still intact, the executioner shouted, "Emmanuel George!"
Huh? Mano? What he do, boy? The reticent career public servant and DJ of note was in a daze as he slow-marched to his death, almost as if he was attending his own funeral. Wham! Mano gone. People swore that the severed head chanted "ah is ah hooligan" as it settled next to the pre-deceased.
By then, because they were shocked by what was turning out to be wild bloodletting, other members of Cabinet went into the massage mode, such that you'd swear they suddenly contracted "stiff neck". Suruj Rambachan loosened his tie and sweated profusely. Rudy Moonilal reached for what was barely there, mumbling something incoherently. In the chilled chambers of the Diplomatic Centre, men and women sweated.
Embau Moheni! The black brother thought he was hallucinating. His dashiki clung to his lithe frame, glued by sweat. But he put on a brave face: he knew he was being sacrificed to make way for another NJAC brother. Fist in the air, before he felt the blade, he shouted, "Power to Kamla!"
Rupert Griffith and Stacy Roopnarine almost lost control when the executioner bellowed their names. But they felt relieved in more ways than one when the PM smiled benignly, laid down the bloodied sword, and told them that they will live to be executed another day. They nodded their heads and managed to mutter, "Yes, Prime Minister."
But the danse macabre was hardly over. Volunteers were actually queuing up to fill the breaches left by their dearly departed comrades. I know that fools rush in where angels fear to tread, but this show of power was morphing into a theatre of the absurd.
There was the genial Garvin Nicholas, be-suited and besotted, all eager to plunk down on the seat of Attorney General, still warm from Ramlogan. Garvin is somewhat a glutton for electoral punishment. Surely, I mused, he ought to realise that he was selected only to warm a chair as elections loom large on the horizon?
But stranger things have happened in the realm of politics. Before I could recover from the public bloodbath, there was my old friend and colleague, retired Brigadier Carl Alfonso, nattily dressed, exuding confidence as he marched with pride and precision to occupy the hottest seat in town, that of Minister of National Security.
What the Brig hopes to achieve in the few months he will be there, which our other military brethren (Brigadier John Sandy and Captain Griffith) failed to do, baffles me. But who knows? Carl is a wily old soldier and he may have some tricks up his sleeve that will baffle the criminals, if not their bodies, certainly their brains!
And at this stage in the tenure of Kamla's administration, the twilight hours, so to speak, who gives a rat's rectum what happens? I think the PM is working hard to put her ever-changing Government out of its misery, a kind of collective hara kiri, or worse, a revised version of the Jonestown pact.
Whatever happens between now and the elections, and what happens thereafter, Kamla will be best remembered for having recruited then decapitated the largest number of ministers and other senior officials in one five-year term.
Take a bow, Prime Minister—but be careful not to expose too much neck. That could be fatal.