Kelvin ' Mighty Duke' Pope
The Mighty Duke's Send-Off – January 22, 2009
TrinidadandTobagoNews.com Reporters
January 14, 2009
Updated: January 15, 2009
One of Calypso's greatest icons Kelvin 'Mighty Duke' Pope passed away earlier today. Mighty Duke, who was diagnosed with myelofibrosis – a serious bone marrow disorder that disrupts the body's normal production of blood cells – has succumbed to this illness ending a battle of over four years. His wife Rebecca, one of his sons, Wendell, and Hollis 'Chalkdust' Liverpool were at his side when he passed.

Born in 1932 in Point Fortin, South Trinidad, 'Duke' over the years became renowned not only for delivering social commentary – political and witty, humorous songs with equal skill, dignity and lyrical mastery – but also for his stately stage presence and for being one of the best-dressed Calypsonians.
The Duke, as he was lovingly called, is the only Calypsonian in Trinidad and Tobago's history to have won the Calypso Monarch title four consecutive times: 1968 with "What is Calypso" and "Social Bacchanal", 1969 with "Black is Beautiful" and "One Foot Visina", 1970 with "Brotherhood of Man" and "See Through" and 1971 with "Mathematical Formula" and "Melvie and Yvonne". He also won the Road March Title with "Thunder" in 1987. As a Calypsonian, Duke was a master lyricist who was not only interested in local issues, but over a career which lasted more than 50 years demonstrated the importance of a global awareness. With such songs as "How Many More Must Die" and "Apartheid" he was a vocal critic of colonialism and apartheid in Africa. In 1970, Mighty Duke was honored with the Humming Bird gold medal for his musical accomplishments.
Speaking with TrinidadAndTobagoNews.com, COTT president Lutalo 'Brother Resistance' Masimba said that the Mighty Duke, who has been in and out of hospital for blood transfusions, passed away at about 1.05 p.m. today at the Ellerslie Private hospital in Maraval. Brother Resistance stated that Mighty Duke has always been a light for the Network Riddum Band, the Rapso movement and the Calypso fraternity in general. Duke also supported the People's Mall in "a certain and definite way," for which he would always be remembered. Brother Resistance also said that the Duke's passing leaves, "a deep hurt in a personal way," but also a celebration for his lifelong achievements and commitment to the Calypso industry. Duke would be remembered as one of the greatest chantwells in the history of Calypso, concluded Resistance.
The Duke lived a long and fulfilling life recording Calypsos from 1964. His Calypsos remain a living testament to the momentous contribution of this mighty Trinbago Icon and he will be remembered for his passion for the Calypso art form. Below is a list of some of the songs that he recorded over the years:
1964 – Woop Wap; Racial Segregation
1968 – What Is Calypso, Social Bacchanal
1969 – All Night, Tonight; Black Is Beautiful; Bring It Back; One Foot Visina
1970 – Beast for Sale; Brotherhood of Man; See Through
1971 – Carnival in Trinidad
1973 – Tonight
1974 – Ah Never Do That; Ah Wish Ah Was; Axe Handle Freda; Class Is Class; Cock of the Rock
1977 – Uhuru; Mr. Jarvis; Be Yourself; Black Is Back; Calypso Will Never Die; The Cannibals; Carnival Fire
1978 – Barbers Complaints; Black Woman; Carnival Time 1979 – Bam Bam Oui; Do What You Doing
1980 – Freaking Streaking
1981 – Answer the Question; A Point of Direction
1982 – Mystery of Life; No Man But Me; Advantage; Babylon Go Fall
1983 – Love Me All Over; DJ Honeyneedle
1984 – Rock Meh; Land of Love
1985 – Ah Got The Feeling; Apartheid; Artificial World
1986 – How Many More Must Die; Treat Your Woman Nice; Ah Want You To Love Me
1987 – Thunder
1988 – Outrageous; Pan in Yuh Rookcung-Kertungcung; Acid Wash
1989 – Yahhh Hhhh; Ah Tired Do That
1991 – Get on Radical
1992 – Rocket in Yuh Pocket
1993 – Role Model; Yuh Come to Dance
1994 – Soca Have Meh Tu Bey
1995 – Don't Destroy Calypso; Get A Life
1996 – Play Yourself; Furhman
2001 – Memories of the Year
2000 – Things Change Up; Horn Proof; There's No Excuse
Kelvin 'Mighty Duke' Pope Homepage
Kelvin 'Mighty Duke' Pope in pictures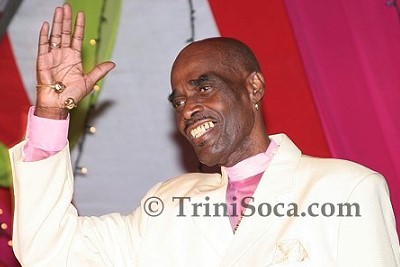 Kelvin ' Mighty Duke' Pope
Statement from the Ministry of Community Development, Culture and Gender Affairs.
MEDIA STATEMENT
On behalf of the Ministry of Community Development, Culture and Gender Affairs and by extension the Government of Trinidad and Tobago, and on my own behalf, I extend my deepest condolences to the bereaved left by Kelvin Pope, known on stage as the Mighty Duke.
In the 1930s, Duke was born in Point Fortin, a community known for its extraordinary number of entertainers. It was also in this oil town where his social conscience was formed. Duke grew up in a home where calypso was a staple and it was only natural that he would join the calypso fraternity as a prolific composer. He wrote his first song in the 1950s.
The Mighty Duke accomplished a feat that many say may never be repeated in calypso history. He earned the moniker "a Pope, a Duke and a King" when he set a record as the quadruple winner of the crown, Calypso King of the World, at four consecutive Dimanche Gras shows from 1968 – 1971.
He was regarded by many as being on par with Calypso stalwarts like Aldwin "Kitchener" Roberts, who also died during a Carnival season. Among the Mighty Duke's early contemporaries were Maestro, Stalin, Power, Ras Shorty I and Composer.
The career of this national calypso icon spanned over four decades during which he made an invaluable contribution to Trinidad and Tobago's calypso heritage. The national community will miss not only his gentlemanly demeanour but also his unique sartorial elegance.
May he rest in peace.
Honourable Marlene McDonald
Minister
1995 – Don't Destroy Calypso
Related News:
The Duke who was King
By SUZANNE SHEPPARD Saturday, January 17 2009
HE STOOD tall physically and musically, dominating the world of calypso and earning his place as one of the icons of the artform in a career than spanned more than five decades.
Duke to be honoured in PoS, Pt Fortin January 17, 2009
Veteran calypsonian Hollis Liverpool (Chalkdust) said yesterday his late comrade Kelvin Pope's beloved classic How Many More Must Die will be sung at his send-off at Coronation Park, Pt Fortin, on January 22nd.
Mc Donald mourns Duke January 17, 2009
CULTURE Minister Marlene Mc Donald said the Trinbago Unified Calypsonians Organisation (TUCO) has pledged to assist the family of the late Kelvin "Duke" Pope with funeral costs, as she vowed to also help where required.
Just a tribute
Black Prince on 'controversial' song about Mighty Duke: January 17, 2009
Now, with Kelvin Pope's passing on Wednesday, Prince is wondering if the song, which is based on the robbery and assault of the late calypsonian on Holy Thursday (March 17) last year, will be called to question for either upholding or degrading the icon's image.
Duke to be buried next week
Funeral arrangements for Kelvin Pope – "The Mighty Duke" are still being finalised, but it may take place next Wednesday or Thursday.
Duke is dead
The Mighty Duke is dead.
'Mister Carnival' no more
VETERAN calypsonian Mighty Duke (Kelvin Pope), described by many within the fraternity as 'Mister Carnival', died yesterday at Ellerslie Private Hospital after a long battle with bone marrow cancer. He was 76.
Kaiso greats sing praises to a champion
The Dying Art—penned for '09 Monarch contest
The Mighty Duke's Send-Off January 22, 2009