By Raffique Shah
November 09, 2014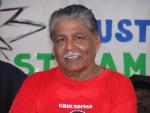 One of these not-so-good days, vehicular traffic in this cussed country will grind to a halt. With vehicular density (cars per 1,000 people) somewhere around 600 and growing, and Government boasting of vehicle sales as a barometer of a robust economy, we shall soon reach saturation where, if all the vehicles take to the roads at the same time, the country would be stricken with severe traffic constipation.

Over the past 20 years, how many kilometres of new roads have been constructed in this country? Three main highways—Beetham, Churchill-Roosevelt and Uriah Butler—have been widened, force-fitting six lanes into spaces that were designed to hold four. Except for the interchange, the ongoing extension of the Sir Solomon Hochoy Highway (San Fernando to Point Fortin) and the upgrading of a few secondary roads, nothing substantial has been added to our network.
During that same period, the number of cars has multiplied, possibly by three times, and the numbers and sizes of heavy trucks—huge dump trucks, massive container transports—likewise. An easy way of estimating where we are today in relation to vehicles is to look around your neighbourhood and count the numbers of vehicles per household.
Casual observation tells me that most households have at least two vehicles, many three, and some four or more. Not only that: the types of vehicle have changed. Today, if one does not own a sports utility vehicle (SUV) or truck (what were once known as vans, except these are, well, muscular!), you are not with it.
To add to our woes, this country has never had an obsolescence programme, so un-roadworthy wrecks trawl the roads without the requisite certificates of inspection and nobody gives a damn.
The end result of this irresponsibility on the part of successive governments, this absence of planning, is constant traffic congestion not only on the main roads and highways leading to our cities and towns, but at every two-rum-shops junction across the country.
In the current controversy over the highway extension to Point Fortin, frustrated residents of communities in the deep south plead for its swift completion to ease their hours-long, daily commute via ancient roads.
Well people, I am happy that you are getting a shiny new four-lane highway that is sure to help. But do not expect a free flow of traffic when it's completed. Residents of central Trinidad who must commute to Port of Spain and its environs to work or conduct business spend two-to-three hours in traffic daily. Parents and children must rise at four in the morning and leave their homes no later than 5.30 if they are to reach Port of Spain by eight. Worse, the smallest mishap can turn two hours of frustration into four hours of torture.
For as long as we keep adding vehicles to the huge stock we already have, and until we institute a rapid transit system (or systems) that works, we shall be condemned to spending more hours confined in our vehicles than we spend at our places of work or in our homes.
Whenever we are in a bind, we often look far to Singapore, to see how they handled problems that are similar to ours. Of course, we cannot simply apply all their templates to Trinidad: if we did, some politicians would be in jail, and 90 per cent of the population would be cast in concentration camps (well, jail cyah hold all ah we!).
You spit on the sidewalk—lock up and lashes! Yuh bum peeping from yuh pants—lash! Litter—lash!
So we don't want to go all the way down the Singapore road: we would sooner die than conform.
However, there are some aspects of their orderly society that we can learn from, and one is their mass transit systems. Bear in mind that this city-state is 718 square kilometres small (T&T 5,131), but it has a population of 5.4 million against our 1.3 million.
As far back as in 1967, city planners saw the need for rail-based urban transport by 1992—25 years ahead! By comparison, that was the same year in which the Dr Eric Williams Government was dismantling the remaining rail system in Trinidad.
The autocratic Lee Kuan Yew, mindful of the island's land-scarcity, hence limited road-space for buses, opted for rail. The 153-kilometre system was built in phases, the first line opening in 1987. By 2013, daily ridership was estimated at 2.75 million.
Because of its super-efficient rapid transit system, vehicle ownership in wealthy Singapore is 151 per 1,000 residents, the lowest among developed countries. And while they still face traffic woes, a road toll system, recently digitised, has reduced significantly congestion and accidents.
Today, 65 per cent of Singapore's estimated 3.5 million daily commuters use public transport, which is described a clean, rider-friendly and efficient.
Clearly, Trinidad (more than Tobago) needs a nationwide rapid transit system. The rapid rail preferred by the PNM, which many people like, may be better, but it's hugely expensive (at least US$70 million a mile). Bus rapid transit is less costly and could be almost as efficient.
Whatever our preferences, it's urgent that we move past discussion and into implementation before the country is stricken with a crippling case of traffic constipation.