By Raffique shah
August 23, 2014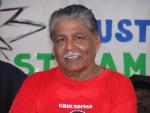 Patrick Manning was absolutely correct on all the reasons he cited for declining the Order of Trinidad and Tobago, as announced by Prime Minister Kamla Persad-Bissessar last Thursday.
It is amazing that in just about everything she says and does, the PM gets it wrong nine out of ten times. The furore over her insistence on enacting and implementing the "run-off" provision in general elections still rages, yet she puts both feet in her mouth by publicly announcing that she has advised President Anthony Carmona to confer the ORTT on Manning and Basdeo Panday.

Everything was wrong with that proclamation—effectively, that's what it was—so much so that a down-and-out Manning was able to get up from the canvas and score a flurry of knockout punches.
It was the PM who politicised the issue when she breached protocol, not to add common courtesy, by publicly announcing the awards before consulting the awardees. In fact, she committed several breaches of convention that left me wondering if she was of sound mind when she made the announcement.
There is a national awards committee chaired by the Chief Justice that considers all nominations for honours. The committee accepts or rejects nominations as it sees fit, then refers its recommendations to the Prime Minister who, in turn, has the overriding power to strike off names, but not to add (that's my understanding).
Of course, the PM may make her own nominations, with which the committee would hardly disagree.
Also very important, at some stage between nomination and announcement, awardees are contacted by a senior official from the Office of the President, informed of his/her name being on the list, and asked if he or she accepts or declines. In the case of awards made on Independence Day, there is also confidentiality between acceptance and the public announcement, which the Office of the President makes on the morning of Independence Day, not earlier.
In this instance, the Prime Minister breached all these conventions.
Manning said he first read that he was being awarded the ORTT on Facebook! It seemed that Panday was abroad, so unless he, too, is a Facebook fan, or some friend or relative communicated with him, he might still be unaware of his soon-to-be-bestowed "handle".
The PM did not extend the courtesy of asking Manning if he would accept the award. That was crass, insulting and presumptuous. In fact, it was vulgar politicking. And it gave Manning the opportunity to publicly reject the offer, if only on that ground.
But there were more reasons for him to decline, all of which are valid. He is still a sitting MP, and although there is no law debarring an MP from accepting such award, common decency dictates that he should not for as long as he remains in Parliament.
Manning also noted that he has been demonised by Kamla, her aides and supporters, accused of every sin and malfeasance while he was Prime Minister—corruption, nepotism, racism, wastage and worse. Indeed, the People's Partnership rode into power by convincing the electorate that Manning was the worst thing to have happened to the country since slavery.
To this day, four years into office, they blame him for everything that they cannot fix or deliver even as they claim fame for the fruition of programmes and projects that began under his stewardship.
How, therefore, does the PM justify conferring the nation's highest award on such a person? Should he not be in jail instead of President's House? Or is it, as Manning asks, that she is retracting her many charges against him?
It can't be both—that he has "rendered distinguished and outstanding service" to the country, and that he has looted the Treasury. Make up your mind.
Look, I have been a severe critic of Manning, especially of the seeming wildness in which he engaged in his final, truncated half-term in office. I condemned his "two, three smelters" in the face of public outrage over one such plant. And I argued against his focus on the skyline of Port of Spain even as the capital city, at ground level, was in disrepair, often flooded and always stank.
But in his sober years he made some sterling contributions to national development, expanding the downstream energy sector, extending educational opportunities from early childhood to tertiary level, and more.
Panday, too, for all his foibles and unrestrained vindictiveness, has made significant contributions to his native land.
Both men are deserving of national honour, and, if they agree to accept them, to national awards.
What politicians like Kamla do not understand is that you do not play politics with this.
I can say with authority that there are people who hanker after recognition and awards to the extent that they solicit others to nominate them, to lobby for them, even though they are mostly less than ordinary. Many such persons equate the acquisition of wealth or contributions to political parties with contribution to country.
Then there are those who do what they must and what they can, who seek neither fame nor fortune, decorations nor high offices.
Such citizens cannot be bought, not with money, not with medals.