By Clint Chan Tack
August 23 2014 – newsday.co.tt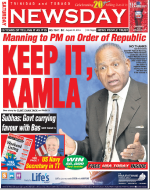 FORMER Prime Minister Patrick Manning yesterday publicly declined the recommendation of his successor — Prime Minister Kamla Persad-Bissessar — that he receive the country's highest honour, the Order of the Republic of Trinidad and Tobago, at this year's National Awards Ceremony at Queen's Hall, Port-of-Spain on Independence Day.
During an Independence Day cocktail reception which she hosted at the Diplomatic Centre, St Ann's on Thursday night, Persad-Bissessar announced she had recommended to President Anthony Carmona that former prime ministers Manning and Basdeo Panday receive the Order of the Republic.

While not indicating whether Manning, the San Fernando East MP, or Panday were consulted about or had accepted this award, Persad-Bissessar declared, "They are worthy of awards. I thought it fitting that we pay tribute to those who came before us."
Panday, who is in Singapore, had not issued an official comment on the award up to press time.
But Manning, in a statement issued by his constituency office, not only refused the award but hit out at Persad-Bissessar and her People's Partnership (PP) Government saying she had led attacks against him in the 2010 general election campaign in which she defeated his People's National Movement (PNM) administration which she did not withdraw in Thursday's announcement.
Manning said, "I wish to respectfully decline the publicly announced nomination by the Honourable Prime Minister to have me receive the Order of the Republic of Trinidad and Tobago, this nation's highest award."
He explained, "The primary reason is rooted firmly in my principled stance to not accept any Trinidad and Tobago awards while serving as an MP."
Manning added, " It is important to note what is appropriate and what is not, regarding the announcement of such awards."
Explaining that the Order of the Republic is given to a national of this country who "has rendered distinguished and outstanding service to Trinidad and Tobago," Manning said, "I was made aware of this nomination through persons who saw it reported on the social media, Facebook."
Confirming that Newsday called his son Brian for a comment on the nomination, Manning said, "I was neither consulted, nor advised prior to this announcement. I consider this approach a gross discourtesy." Manning, who served as Prime Minister from December 17, 1991 to November 9, 1995 and December 24, 2007 to May 26, 2010, explained there was a well-established process for the selection of persons to be recipients of national awards.
"Under PNM (People's National Movement) administrations, a committee considers these distinguished national awards, with the Chief Justice as Chairman and subject to the imprimatur of the Prime Minister," he said. Manning continued, "Due process for these awards includes informing the potential recipients through the Office of the Prime Minister in a confidential manner."
He further indicated, "Only recipients who have agreed to accept an award are then announced publicly, and with dignity. Had I been consulted beforehand, I would have been able to privately decline." Assuring the population that he holds "our institutions, ceremonies and awards in the highest esteem," Manning added, "The need for a public distancing is unfortunate but necessary in the light of the many and increasingly debauched approaches to these matters used by this UNC (United National Congress) administration in its four years in office."
He said he prayed for the day when Persad-Bissessar and the PP Government demit office so citizens can once again "take pride in our liberty", and further Manning charged that Persad-Bissessar was able to "win government" four years ago "through a series of sustained and vicious attacks on my character."
Claiming Persad-Bissessar personally led those attacks, Manning alleged, "These attacks continue." He wondered whether "through this nomination announcement, is the Honourable Prime Minister retracting those venomous accusations and charges against me?"
The latest post on Manning's Facebook page yesterday described Persad-Bissessar as "the worst Prime Minister in our history to date."
In reference to the Life Sport scandal, the post also said the Sport and Youth Affairs Ministry has now "been reduced to a place synonymous with corruption and not development."
Last evening, Prime Minister Kamla Persad-Bissessar expressed regret over Manning's response to her gesture. (See page 5)
Opposition Leader and PNM political leader Dr Keith Rowley last evening expressed support for the position taken by Manning.
"In her desperation to be liked and play politics with institutions, once again, the Prime Minister has taken advice and action which have served only to diminish and embarrass us all," Rowley declared.
Initially responding on Thursday night to Persad-Bissessar's recommendation of Manning and Panday to receive the Order of the Republic, Rowley had told Newsday, "They both deserve to be recognised and acknowledged."
Earlier PNM Public Relations Officer, Senator Faris Al-Rawi had said Rowley maintained the view that Manning and Panday stand as icons for their contributions to national development.
However given Manning's disclosure that he was never asked if he wanted the award, Al-Rawi had said Rowley believed the true intention of Persad-Bissessar's recommendation "has been unmasked."
In his later statement, Rowley, who succeeded Manning as PNM leader after he resigned from the post following the party's defeat in the May 2010 general election, stated, "If by now the Prime Minister does not realise that she needs new advisers, then we can expect more and more of this type of thing."
"Once again, no respect for people and like most of her Government's actions, no respect for process," declared Rowley, who served as a Cabinet minister in all of Manning's administrations, before being fired in 2008 when he questioned the lack of oversight for Udecott.
However, standing up for Manning, Rowley agreed with his MP's position on the Government's management of the country.
"Whether it is the Invaders Bay land, the Constitution amendments to change the election system or making an award, the arrogance of the Prime Minister sees her dismissing the need to follow proper process," he said.