By Raffique Shah
July 20, 2014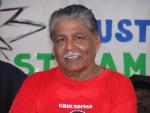 Not surprisingly, they are all pointing "holier than thou" fingers at each other following the shooting down of Malaysia Airlines Flight MH17 that killed close to 300 innocent people.
The Ukrainian government accuses pro-Russian separatists in the area where the tragedy occurred of firing a Russia-supplied missile that brought the passenger plane down. America and much of Europe concur, with blood-curdling calls for the "terrorists" to be brought to justice.

From Moscow, Vladimir Putin denies any involvement, and instead accuses the Ukrainian government forces, which has been pummelling the separatists from the air and with artillery, of being the guilty party. The rebels themselves claim they do not possess the sophisticated missiles needed to bring down an aircraft flying 30,000 feet above ground.
I say believe none of them! Their hands are all stained with the blood of innocent people who are reduced to grim statistics, collateral damage as they disingenuously dub it, in conflicts like the one that occupies centre-stage in Ukraine.
You see, outraged by the callousness of what happened to the poor souls on that Malaysia Airlines flight, we are quick to rush to judgment. And because we are inundated with news, views and propaganda manufactured by and in the West, we often miss out on the truth.
I am not suggesting that the Ukraine separatists may not be culpable in this instance. They seem to be the most likely culprits, taking all factors into consideration. But it could well be that the Ukraine Air Force or military, which is well-equipped and busy bombing targets in the vicinity of the crash, did the dirty deed.
After all, they have had good practice at shooting down passenger flights. In October 2001, over the Black Sea, Ukrainian forces, using a surface-to-air missile, struck a Russian passenger jet killing 78 passengers and crew on board the flight from Tel Aviv to Novosibirsk.
That flight, like Malaysia Airlines MH17, was using a commercial corridor. It had not strayed into restricted airspace.
The Russians are also notorious for shooting down passenger aircraft. In fact, they have the notorious distinction of registering the first such "kill". In September 1983, a Korea Air jumbo jet with 269 passengers and crew, en route from New York to Seoul and flying within a commercial corridor over Russia, was blown out of the sky by air force jets. They claimed they mistook the jumbo for a surveillance plane.
Not to be outdone, the Americans struck big in the Persian Gulf in July 1988. In clear skies where you can see forever (I know—I have flown in that area), the USS Vincennes fired a surface-to-air missile that ended Iran Air flight 655, snuffing out the lives of 290 passengers and crew.
That incident occurred during the height of tension between Iran and the USA. The flight, from Iran to Dubai, had on board mostly pilgrims to Mecca. By way of explanation, the Vincennes' crew claimed they believed they were firing at an Iran Air Force F-14 jet fighter. Those who know anything about aircraft, think of the difference in profiles between a wide-bodied passenger plane and an F-14 fighter.
As we express outrage over the downing of the Malaysia Airlines plane and the massacre of all passengers on board, we must never forget one of the earliest acts of aircraft terrorism that was committed on our doorstep, in a manner of speaking.
On October 6, 1976, the weekly Cubana Airlines flight turned around in Guyana with a number of mostly young people on board heading back to Havana. There was the Cuban fencing team that had just competed in Caracas. There were also 11 Guyanese students.
Among the 73 passengers and crew on board were two Venezuelan men, Hernan Ricardo and Freddy Lugo. The plane touched down at Piarco, then in Barbados, where Ricardo and Lugo disembarked. By then they had planted two C-4 (plastic) bombs on board.
Shortly after the plane took off from Barbados, the captain radioed that there had been an explosion on board. Many people in that part of the island watched in horror as the captain tried to return to the airport. He failed. The plane went down, killing all on board. Later, debris and dismembered bodies would be recovered.
Ricardo and Lugo flew back to Trinidad and checked in at the then Holiday Inn in Port of Spain. There, that said evening, that local police under Randolph Burroughs arrested them and found incriminating evidence that linked them to anti-Castro CIA operative Luis Carriles.
It turned out that the CIA, and possibly higher officials in Washington, were aware of the plot to blow up the Cubana plane. Even worse, Washington helped Carriles escape and evade prosecution in Venezuela and/or Cuba (Ricardo and Lugo were jailed in Caracas).
Later, Carriles continued working for the CIA in Central America, and if alive, still lives in the USA.
Washington has no moral authority to brand anyone a terrorist, not when it has protected mass murderer Carriles and others of similar ilk.
Because their hands are stained with blood—America's, Russia's, Ukraine's—we can expect no punishment for those responsible for shooting down Malaysia Flight MH17.