Two pension bills passed
By Ria Taitt Political Editor
June 15, 2014 – rinidadexpress.com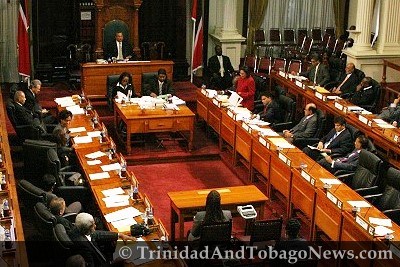 A financial boost for judges and Parliamentarians is on the way.
The holder of the third highest office in the land—the Chief Justice—will now receive the highest pension- $93,223 a month tax free.
This, according to the new pension arrangements passed by the House of Representatives on Friday night at the International Waterfront Centre, Port of Spain.

Two bills—the Retiring Allowances (Legislative Service) Bill and the Judges Salaries and Pensions (Amendment) Bill—passed at around 10.30 p.m.—have made judges and Members of Parliament and the Senate the beneficiaries of major improvements in their retirement benefits..
The Judges Bill allows the allowances of judges to be added their salary to become their new pensionable emoluments. Under the arrangement the Chief Justice pension moves from $50,350 tax-free to $93,223.
This benefit will apply the incumbent at retirement and would apply immediately to his predecessors and successors. If the law is passed, the pension of retired chief justices would immediately become equal to the salary and allowances of a sitting Chief Justice.
The same principle would apply to judges.
With respect to members of Parliament. the bill similarly introduces sweeping changes that applies to any member of the House who served after 1976 and any member of the Senate who served after 1996.
This new system of retirement benefits applies to parliamentarians. The biggest beneficiaries would be parliamentarians who at any time during that period (post 1976 or post 1996 (in the case of senators) served as a minister. That is because their pension from now on would be calculated, using the rate of the salary and housing and transport allowances of an existing minister. This applies also when those salaries and allowances increase in the future.
For those MPs and senators who at any time were ministers and served in the legislature for 18 years or more, their monthly pension would be —$60,050 month—equal to the monthly salary and allowances of a minister and would increase whenever those figures increase.
Under the current system, which the legislation proposes to replaced, a minister who served 18 years or more would have received a pension of $27,353.33. Current MPs who qualify on the People's Partnership side are Chandresh Sharma, Winston Dookeran and Speaker Wade Mark. On the Opposition side the beneficiaries are Opposition Leader Dr Keith Rowley and Port of Spain North East MP Colm Imbert. Former ministers who qualify for this amount include Errol Mahabir, Kamalludin Mohammed and Pamela Nicholson. These people served 18 years or more—the period required to qualify for the maximum pension payment under the revised terms and conditions.
Interestingly under the proposed system those members of Parliament over 55 years old who qualify for the maximum pension benefit (of $60,050) would immediately receive this sum, which is equivalent to the minster's pensionable emolument, no matter where they sit. In short, Sharma, Rowley, Imbert and Mark (whose Speaker's salary is less than a minister's) would receive $60,050 immediately, upon the passage of the bill. Dookeran's ministerial package is already at that level.
Kamla Persad-Bissessar, Patrick Manning and Basdeo Panday who all served for 18 years or more are not included in this arrangement since their retirement benefits are governed under the Prime Ministerial pension arrangement.
In order to qualify for any parliamentary pension a minister or backbencher or senator must serve a minimum period of four years in Parliament. Such a person would receive one-third of the salary and allowances of the current holder, as pension. Currently this sum would be $20,515, up from $6,838.33.
As it stands MPs such as Dr Glenn Ramadharsingh and Collin Partap would be eligible to receive $20,515 immediately, provided that they are 55 years old. If younger, they would have to wait until they are 55 years.
In the same category would be senators like Kevin Ramnarine, Devant Maharaj, Emmanuel George as well as former ministers who served in the NAR Government, the UNC Government and PNM Governments but were only in Parliament for one term would also receive a pension of $20,515.
Interestingly people like Esther Le Gendre, Kennedy Swaratsingh, Mustapha Abdul Hamid and Mariano Browne, who were ministers in the previous Manning administration would not qualify for any parliamentary pension at all
Gratuity benefits
Members of Parliament are also entitled to a gratuity equal to 20 per cent of total salary paid to them over the parliamentary term. This is paid by the Ministry of Finance upon the dissolution of Parliament.
In addition to this, the new bill proposes a termination benefit, which Government leader Dr Roodal Moonilal, said it designed to help former MPs make the transition back to private life.
To qualify for this benefit a member of Parliament must cease to be a member of the House by virtue of him/her having lost his/her seat in the election.
Source: http://www.trinidadexpress.com/news/More–for-judges-parliamentarians-263173721.html