By Raffique Shah
June 08, 2014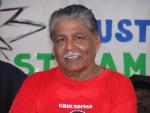 I suppose the Congress of the People (COP), born a robust, bouncing baby in 2007, died of greed rather than malnutrition in the aftermath of the 2010 general elections, so there is little to mourn today as its corpse twitches in delayed rigor mortis, signs of life that are really spasms of death.
How else must one interpret the feast of vultures we are witnessing today, a kind of dance macabre in which those who suffocated the healthy infant in the ample but noxious bosom of big-mama United National Congress (UNC), pretend to be architects of the party's afterlife?

The very people who pinched their noses as the stench from the stateroom of the People's Partnership Government became nauseating are belatedly seeking to resurrect the dead. As far as the electorate is concerned, the COP that promised visionary new politics in 2007 is dead and gone…rest in pieces.
Winston Dookeran and his team defied the conventional odds in the 2007 general elections, amassing 148,000 votes (rounded numbers, 22 per cent of votes cast) to the PNM's 300,000 (46 per cent) and the UNC's 194,000 (30 per cent). What those numbers told us was that 148,000 electors calculatedly voted against the UNC and the PNM—and this does not factor in another 300,000 or so who stayed away from the polls, mostly because they were unimpressed with everything on offer.
So, although the COP did not win a seat, which then UNC leader Basdeo Panday rubbed in Dookeran's face the way George Chambers did Karl Hudson-Phillips and the ONR in 1981, it made a massive point: many, many people were fed up with PNM and UNC politics. They wanted something new, something different, which is what the COP offered.
Because our memories are short, people may not remember some of the frontline candidates for the COP in those elections. They included Nirad Tewarie, Ganga Singh, Rabindra Moonan, Selby Wilson, Joe Pires, Manohar Ramsaran, Wendy Lee Yuen, Hulsie Bhaggan, Gary Griffith, Gillian Lucky, Anand Ramlogan, Marlene Coudray and Mervyn Assam. Other stalwarts were in the "engine room" as the new party campaigned on a platform that promised new politics.
By 2010, some rats had quietly returned to the very UNC they had been cussing three years earlier, tails between their legs, high offices on their mind. But Dookeran and others held the high ground and ended up forging an alliance with the UNC that became the Partnership under the leadership of Kamla Persad-Bissessar.
The lofty Fyzabad Declaration was supposed to reflect this "new politics", propelling many people who had never voted before, and certainly those who believed in the COP ideals, to turn out in record numbers (70 per cent of an estimated one million voted). The masses delivered 29 of 41 seats to the Partnership, leaving a severely trounced PNM with a paltry 12 seats. In the euphoria of the moment, people who had earlier rejected both UNC and PNM politics, anxiously anticipated a new dispensation, a new dawn.
It did not take long for the masses to realise, once more, that they had made asses of themselves, that "new politics" was the same old, same old, disguised in new garments. With the feeding trough firmly in their hands, the UNC swine started swilling as if there was no tomorrow. And before the idealists knew what was happening, COP-ers too plunged into the food-fest, grabbing even more than the UNC did.
For sure, some among the COP remained aloof of the plunder. I do not believe that Dookeran was in any way involved in corruption. In fact, honesty is the quality that makes him attractive to the 300,000 or so discerning citizens who do not trust the UNC or the PNM. Let's face it: Dooks is not charismatic or exciting or even a dynamic platform speaker. Honesty is all he has going for him.
I also do not believe that COP-ers such as Prakash Ramadhar, Carolyn Seepersad-Bachan, Lincoln Douglas, Bhoe Tewarie and a few others are into skulduggery.
However, they have all been tarnished by the broad brush of wrongdoing because they have failed to stand up, speak out and take decisive action when the faeces from the Partnership stateroom started floating. Au contraire, they have publicly defended a government that remains mired in mischief that runs beyond the confines of corruption.
Admittedly, it takes a special kind of human being to stand on principle when it matters most. The majority of people choose the easy road. In this case, they would not want to see the Partnership Government fall, so they will not resign over fundamental breaches of trust. Of course, the Government will not collapse with the departure of five or six MPs. And there is something called "critical support" that is an option for men and women who possess testicular fortitude.
The COP has lost all credibility, all influence, and most importantly, it has lost its constituency. The mass of electors who stood by the party in 2007, and who increased in numbers by 2010, have abandoned it.
Its leaders are therefore fighting over a carcass, truly a dance macabre. What disappointment.