y Raffique Shah
December 22, 2013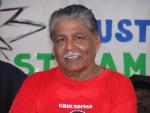 Just when it seemed that we would end 2013 with only memories of macabre murders, of innocent children being battered and slaughtered by barbaric adults, two Caribbean singers rescue us with their vocal and musical prowess, with the food of love that transcends the pettiness of insularity, lifts our spirits and maybe even our souls.

First, there is Tessanne Chin from Jamaica, an attractive and very talented singer who stormed her way into the hearts of millions of music lovers in the Western Hemisphere as she hurdled round after round to win The Voice contest.
I must confess that I knew nothing of this show before Tessanne made it relevant to people of the Caribbean. As she wowed judges and audiences, though, the girl who charmed Americans with her Jamaican accent as much as her voice forced me to sit up and take note. Before I knew it, I was rooting for her—as, I imagine, many others of my generation did.
Cynics might dismiss the hype around Tessanne as being, well, trite. Jamaica's economy is in a mess, its murder rate is a notch or two above ours in Trinidad and Tobago, which means it's bad, and even worse, aren't we in conflict with Jamaica over an as yet unresolved immigration issue?
All of the above are true—which is precisely why Tessanne's journey to fame, and possibly fortune, is important. Yesterday, Trinis were cussing Jamaicans over their threats to boycott our manufactured goods as the "immigration war" heated up. Yet, the same Trinis followed the singer's every note in the contest, voted for her via social media, and claimed her as theirs as much as she was Jamaica's when she won.
What a thing, as Keith Smith would have said—and, I dare add, he would have written epistle after epistle on this lovely and talented Jamaican who bridged the troubled waters between two warring Caribbean tribes.
Indeed, her victory is seen as one for the region, not just for Jamaica. And even as the cynics scoff at its value, in its wake Tessanne appeared on prime time network shows on the main television stations in the US where she talked not only about her voice and music and earthy accent and demeanour, but about her country and the region.
Hell, she even earned space in the arts and entertainment section of the prestigious Wall Street Journal, interviewed by fellow-Jamaican Shaggy, no less! You can't pay for that kind of publicity.
As Tessanne basks in the glory of having conquered half the world (Bob Marley straddles-correct tense-all of it), our own Bunji Garlin (Ian Alvarez) is enjoying quite a run with his song, "Differentology". Last night, the track tied for first place as MTV's "Song of the Year" award, having already copped the Soul Train Award, and enjoyed more than a million "hits" on YouTube. The song is the most internationally successful soca track in many years.
I need note that ever since soca music descended into the horrendously noisy pit of inanity, I have hardly paid attention to the many "monster hits" that my colleagues in entertainment writing have promoted, few of which survived the season of "wine and jam". I have long argued that these "songs" are devoid of lyrics, melody and music, possessing only a repetitive beat that is good enough for ten or 20 fetes and two Carnival days on the road—and that's it.
They may make it abroad, usually to Trini-patronised carnivals in North America and Europe, and if they sell, the market remains the diaspora, not the world. Their sub-standard qualities render them useless in promoting the genre of music or the artistes or their country.
"Differentology" is, well, different. When I first heard it early this year, I listened. The beat was not mile-a-minute, and while the lyrics were not particularly impressive, there was something in the melody and music that prompted me to note it as a good song. Later, I would learn that musically, it was a collaborative effort between Bunji and talented guitarist Nigel Rojas.
I was not surprised when, rather than fading after the fete, this song grew in stature, impressed non-diaspora audiences, and more recently found its way aboard the Soul Train, and now MTV. Bunji (and Rojas) deserves what he has earned, having laboured in the musical vineyards for many years, and most of all, for daring to be different.
Earlier this year, he and his wife Fay-Ann Lyons withdrew from the lucrative Soca Monarch competition. While their reasoning pertained to the contractual arrangements, the withdrawal proved to be fortuitous: he could focus on pursuing his career unimpeded by competition, and most of all, fine-tuning and promoting "Differentology".
Interestingly, as Bunji barrels his way to international recognition, Jamaicans and other Caribbean people are rooting for him much the way we supported Tessanne. Some years ago, calypsonian Black Stalin, in his song "Caribbean Man", sang about Rastas in the region having a commonality that eluded the region's politicians.
Today, two young singers have united the region in music, giving us reason to celebrate.
Merry Christmas, people.