By Stephen Kangal
November 26, 2013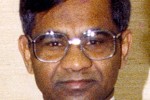 God can be neither at the side nor at the front of the Prime Minister if the tenets of Hinduism are applicable. She said that she puts God in front of her. Then she walks after Him. Consequently all that she does is what God does because in her own words, repeated ad nauseam, she walks after God. All her foot-steps are determined and fashioned by Him because that is the only way she can walk behind God.

Now this is a simple statement. But it is pregnant with meaning, insinuation and propaganda. It constitutes an infringement of the fundamental principles of the doctrines of Karma, Free Will and the universal concept of Divinity itself.
The concept of God is One who is all powerful, omnipresent and omniscient in all religions. We imperfect and sinful human beings do not have either the right, capacity or the privilege to manipulate God.
In all sincerity we cannot claim to have placed God in front of us and then to be walking behind Him. That claim itself portrays our actions as being infallible because we would then be walking in God's footsteps and He is infallible.
God very much walks behind us or He is observing us from above. He wants to see what we are doing. If we put Him front, that I insist we cannot, because He will not be thus manipulated, then we can play the fool and God will not see us although He is omnipresent and omniscient.
Now mind you our PM may be well-intentioned but she cannot claim to be putting God in front of herself, you or me because God is not subject to our whims and fancies. He knows His place.
He allows us the free will to choose between right and wrong, between good and evil, between the worship of the Devil or of Divinity. That is the expression of our free will to choose. It is that option of choice (cause and effect) that determines our Karma.
So that I reject categorically the statement/claim that we can put God in front of us. Such a scenario has implications, that, on the basis of deductive reasoning, can be considered sacrilegious and a violation of the mechanics and principles of Religion, Divinity, Free Will and Karmic philosophy. These claims and insinuations cannot be associated with the claims of a Head of Government of T&T that admits of the supremacy of the Almighty and All-Powerful in our Constitution.