By Raffique Shah
November 10, 2013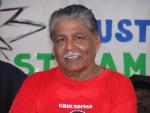 Many readers scoffed at my suggestion in last week's column that a rapprochement between UNC/COP and the ILP was a strong possibility in the run-up to the next general elections, due no later than August 2015. I imagine diehard supporters on both sides of the divide feel deeply wounded by the abuse their leaders hurled at each other during the three campaigns conducted since Jack Warner broke with the United National Congress (UNC) and formed the Independent Liberal Party (ILP).

Platform rhetoric and public sparring, however hurtful and acidic they may be, are not barriers cast in concrete, obstacles to political arrangements. The prospect of winning or losing power is a potent force that drives men (and women) to do the unthinkable.
More than that, the People's National Movement (PNM) has been beaten only when disparate opposition forces came together. The UNC as an entity won a general election only once, in 2000, and that was somewhat an aberration.
Think about it. When the euphoria of 33-3 evaporated after the 1986 National Alliance for Reconstruction (NAR) victory, Basdeo Panday and his disciples waged a bitter war against Ray Robinson and his backers that smashed "one love" with such vitriol, so much anger, no one thought that these two men would ever join hands again.
But in the wake of the 1995 snap elections that resulted in 17-17-2, Panday and Robinson easily embraced each other, allowing Bas to become the first Indian prime minister of the country. By 2001, with another 18-18 tied result, Panday hugged his nemesis Patrick Manning after they discussed a "national unity" government, and remarked, "Come on kid, let's go home."
Of course, that bid for sharing power did not materialise. Robinson, as President, made Manning Prime Minister. A bitter Panday would thereafter languish in a badly fractured UNC that splintered into the COP, with Winston Dookeran and his "knife-and-fork Indians" savaged during the 2007 campaign.
Among those who pummelled the COP were all the frontline UNC members, Prime Minister Kamla Persad-Bissessar included. Less than three years later, they all hugged, kissed and made up, and out of that reunion came the conquering People's Partnership of 2010.
So, enemies today, friends tomorrow is nothing new in politics, certainly not in anti-PNM politics in Trinidad and Tobago. There are no ideological barriers to parties coming together on the road to winning power because these parties have no ideology. Principle does not count. Panday dispelled such considerations when he pronounced that "politics has a morality of its own".
The Partnership, which is really the UNC, faces the nightmare of returning to opposition in 2015 if it chooses to fight the elections alone. The COP is all but dead, having fabricated its own coffin by condoning the excesses of the Government, from early "missteps" in the Reshmi Ramnarine affair to the insidious Section 34 fiasco. If there was any doubt about the demise of the COP, Warner dispelled it in the recent local government elections.
Warner's ILP has emerged as the third party although its "constituency" is not the same as the COP's. The latter comprised people who were disgusted with the tribal, unethical politics of the UNC, but who could not, in conscience, vote for the PNM. These people struck a compromise in 2010, hoping that the COP would be the moral compass of the Partnership. That failed, and in my view, these people are now floating, looking for a home.
The ILP commands 100,000 or so voters, mostly disaffected UNC supporters, Warner admirers (a hell of a thing!), people who measure performance in metres of box drains and handouts that the leader offers. Their capriciousness is characterised by the acrobats of two-by-two councillor Faaiq Mohammed—here today, there tomorrow.
It's little different to UNC politics except for the fact that the older party enjoys brand-recognition, hence a significant base. In this regard, bear in mind that in 2010, thousands of Panday supporters easily switched loyalty to Kamla when the tide changed, the most prominent among them being Roodal Moonilal.
It would be wishful thinking, though, that most or all of the ILP supporters would readily return to the UNC if there is no accommodation between Warner and Kamla. Should the two parties contest the 2015 elections as separate entities, the PNM would easily run through the centre and score a significant win.
Even if they kiss and make up, there is no guarantee that they will retain power.
Three of the four elections this year point to a substantial loss of support. The two seats in Tobago are gone. In several others where the PP won by narrow margins, the PNM will have to work hard to lose. These include (with PP margins of victory in 2010 in brackets): St Joseph (3,000); Arima (374); D'Abadie (1,120); La Horquetta (1,000); Toco/Sangre Grande (206); Lopinot (1,000); San Fernando West (1,300); and Tunapuna (2,500). And in a new configuration, Mayaro, Moruga and Chaguanas East become marginal.
It will be no easy road to a PNM victory, though. The party faces some serious challenges, as I shall show next week.