By Richardson Dhalai
October 07, 2013 – newsday.co.tt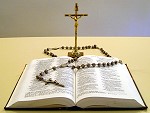 Roman Catholic Archbishop Joseph Harris yesterday stated that the Church would not be drawn into any debate on whether it would sanction same sex marriages.
He said the Roman Catholic Church's position on gay marriages "very clear," and according to the Archbishop, there was a difference between "loving the sinner and hating the sin".

The Archbishop was asked to respond to an exclusive story in the Sunday Newsday which reported that two Trinidadian gay men recently married each other in the United States where such marriages are legal.
They returned to Trinidad where such marriages are not legal and held a lavish reception at an upscale venue where, it is reported, they again exchanged vows. It is not the first time that a gay couple has gotten married in Trinidad and Tobago, but such unions are clearly on the rise, the report noted.
In a telephone interview yesterday, Harris, when asked whether the Church would perform same sex marriages should they become legal in Trinidad and Tobago, said, "The Church cannot do that." "God looks at the person and loves the person, but the Church is very, very clear on the issue of same sex marriages and the Church will not be drawn into that," he said.
However, Sanatan Dharma Maha Sabha general secretary, Satnarine Maharaj, said according to the Hindu marriage ordinance, marriage was defined as being "between a male and a female."
"We understand that there are people who are born with tendencies towards the other gender but that does not mean we must bend the laws to extend to the wider community," he said, adding, "we don't change the laws."
"We have homosexuals here but we won't change the laws to get them married," he said.
Asked whether Maha Sabha would allow same sex marriages should it become legal in Trinidad and Tobago, he said, "I don't think it will happen here but we are not supportive of it."
Also commenting on the issue was Inter Religious Organisation president, Bro. Harrypersad Maharaj who also dismissed the possibility that the legalisation of same sex marriages would be approved locally.
"I don't think it will be approved in Trinidad and Tobago," Maharaj said.
"From a religious organisation standpoint, most, if not all, would stand on the belief that marriage is between a man and a woman and not a man and a man or a woman and a woman," he said, adding "no religious organisation would approve of same sex marriages."
Meanwhile, executive director of the Coalition Advocation for Inclusion of Sexual Orientation's, (CAISO) Colin Robinson said its membership was instead focusing on "more pressing" issues as "bullying, violence, homelessness and job discrimination" rather than same sex marriage.
"Others think it's just a lightning rod, a polarising issue that religious leaders exploit to draw new people to their emptying pews or obscure preachers use to create a platform for themselves, peddle fear and divide instead of heal the nation, and one a sensationalistic media is only too happy to use to sell ads,' Robinson stated. "One thing is clear: it brings out the crazies, and prevents the nation from moving forward on the things about tolerance and sexual diversity and inclusion that we agree on," Robinson added.