By Raffique Shah
August 04, 2013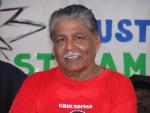 There is no tectonic shift in voting patterns coming out of the Chaguanas West by-election last Monday, as some politicians and political analysts posit.
What happened was simply this: the constituents, who are predominantly Indians and supporters of the UNC, used the ballot to tell the party's leadership that it could not foist any "crapaud" on them. They wanted Jack Warner to represent them, and they were prepared to defy the party's directives to make their point.

That they did it emphatically, giving Jack 70 per cent of the votes cast, was a bonus the wily Warner enjoyed. There is no doubt he is a clever and ambitious man who seizes an opportunity when it presents itself. He will have noted the decline in popularity of Prime Minister Kamla Persad-Bissessar and the People's Partnership, witnessing first-hand the flogging Tobagonians administered to the TOP in Tobago.
As chairman of the UNC until a few weeks ago, he will have sensed, too, that his leader and colleagues were ignoring the warning signs, preferring to bury their heads in the sand and pretend that nothing was wrong. They believed their own propaganda, peddled through paid callers and bloggers and sundry sycophants, that the ruling coalition still commanded overwhelming support.
I should draw readers' attention to a nightly poll conducted by CNC television, asking viewers which candidate they thought would win the by-election. The results put the UNC's Khadijah Ameen way ahead, garnering 60 per cent of the votes. In fact, more persons voted for her in that telephone poll than on election day! A similar poll during the THA elections had put the TOP at the tippy-top.
Jack knew all of this. He may have been part of the delusional charade. So when the damning Concacaf report named him as being involved in yet another football scandal, he saw an opportunity to escape from the sinking PP ship and salvage something for himself. He was always favoured to win his constituency. He has worked like a "lagahoo" to service his people like no other representative anywhere, past or present.
When he resigned his seat and triggered the by-election, he was way ahead of the party in mobilising his support base. Indeed, since he was first elected there in 2007, he had an almost permanent presence in the key districts of Felicity, Pierre Road, Charlieville, Endeavour, Munroe Road and Bejucal. He was a winner before the election bell rang—and he chose the time to ring that bell.
The party was cornered, but it could have saved itself from Jack by using a master strategic stroke. Problem is it has no strategist. The one man who could have been so diabolical, Jack, was now calling the shots. Let me pose the question: had the UNC nominated Jack as its candidate, what might have happened? Its opponents, and scribes like me, would have waded into the leadership for eating its own vomit. But what else is new in politics? Jack could not decline the nomination. He would have gone on to win. But then what? The party could have kept him on the backbench, sans ministerial portfolio, and he could do nothing about it. In such scenario, come the general elections of 2015, it could then safely ditch him as a pensioner.
In general elections, the party is paramount. In a by-election, the candidate counts. It's that simple.
But all of that is now muddy water under the bridge. Jack is seen by many as injecting new life into politics, as breaking the race barrier, as making representation the key commodity in any election. I concede that there are possibilities for him, given that we do not have a sophisticated electorate, that people are likely to go with the flow.
In such case, what can he achieve? In the upcoming local elections, he might easily capture the Borough of Chaguanas (where he has his base) and a few electoral districts in neighbouring areas. He might even win a few districts elsewhere in UNC strongholds where people are crying out for attention, where councillors have been more dead than alive.
But that's the sum total of his potential. Jack's win does not signal that anyone else can duplicate or replicate his feat. Name one other UNC MP who can resign his or her seat, contest a by-election against the party's choice, and win. None—maybe not even Kamla. Name one PNM MP who can join Jack's ILP and deliver his seat to the "green machine". None!
Other than a mass defection of parliamentarians and politicians from the main parties to the ILP, which could trigger an NAR-style, 1986, routing of the UNC, COP and PNM, Jack's party has a shelf life of possibly two years. After that, it expires. It has no constructive place in the political future of the country. And as a destructive force, it can hurt the UNC, hardly the PNM.
A classic case of a UNC-created Frankenstein returning, with vengeance, to destroy the hands that moulded it. Here endeth….