By Winford James
June 12, 2013 – trinidadexpress.com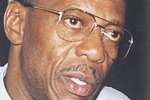 NEVER mind Jack Warner's denial, Prime Minister, it is a fiasco. Warner is focused on the rest of the Cabinet blaming him for it, despite acknowledging, in his usual convenient way, the doctrine of cabinet responsibility, but that is a red herring: it is still a fiasco. You could have said "bacchanal'', "disaster'', "catastrophe'', "debacle'', "shambles'', "farce'', "mess'', "foul-up'', or "screw-up''. Yes, "screw-up''. Everybody knows your government has been screwing up—monthly, weekly—but I'll take the Italian word and its conservative figurative meaning: "failure in a performance''.

Your Cabinet, not for the first time (and not for the last either), failed the people in deciding, with eyes wide open, to pay a contractor $6.5 million to hoist a seven-year-old fire tender from below a main road up onto the road and then to some garage. By your own admission, following the principle that your ministers must trust one another when they bring notes to cabinet, the latter, including your good self, trusted Mr Warner and so paid the money.
When Warner said Junior Sammy was the only company in the country that could handle that kind of job, you believed him. When he said Junior Sammy charged first $10 million, then $8 million, and then $6.5 million, you believed him. Probably without question, too! And when he said he told Junior Sammy the government could not pay any more than that, you believed him.
Did Warner take an invoice to the Cabinet meeting? Did he just take a note requesting Cabinet to authorise the $6 million payment and support it orally? If we are to go by what he has said in his maverick self-defence, he took only the Junior Sammy proposal to the Cabinet meeting. If that is the case, does your Cabinet make million-dollar decisions on the basis of just one proposal? And on the basis of a minister's say-so to boot?
Alarmingly, Prime Minister, Warner seems to have claimed he did the data collection on the wreck and retrieval himself. Is that the case?
If it is, aren't these mundane kinds of things supposed to be done by officers in his ministry?
Do you embrace or promote micromanagement in your ministers' conduct of their portfolios?
If I were the chief fire officer and a company told me it would charge $6.5 million to retrieve the tender, I would tell it to go seek psychiatric help. My tender is some seven years old, cost about $2.2 million brand new, has now depreciated to probably less than $1 million, and you want to charge me $6.5 million? You crazy or what? I could probably buy two brand new tenders with that kind of money!
So, Prime Minister, nobody resisted paying that outrageous, ridiculous sum for the retrieval? Not even you? All of you sat there with your eyes wide open and let Warner and his hand-picked contractor jook them out?
Is it because it is not your money or your ministers' but the people's?
Or is it because Cabinet's hands were tied by Warner who had already had the job done without their authorisation? If the latter, had the contractor already signed an agreement to be paid the $6.5 million for the job in anticipation of Cabinet approval?
And when this kind of embarrassment happens, do you automatically cough up the money? Regardless of the amount?
No consequences for the errant minister? Outrageous!
This incident, which has only now come to light, occurred when Warner was Minister of Works, so clearly he was not punished for it. If anything, he was given the Ministry of National Security in spite of it.
At its last and previous turns at the trough, the PNM spent the people's money as recklessly. Remember Gary Hunt's $2 million flag at the Hasely Crawford Stadium?
Remember George Chambers' air-conditioned horse stables? Where's the PNM now?
CLICO spent the people's money as recklessly too, and look at where the company is now.
I too preside over a cabinet—well, a board really (of a small financial institution), but same difference. We handle people's money—many ordinary people's money—and it is a matter of policy that we request a variety of proposals in respect of jobs that arise, base decisions on facts and evidence, and justify personal positions with facts, evidence, and good reasoning.
We pride ourselves on these standards! And at every annual general meeting, we scrupulously give account. We would dismiss outrageous matters—like the one in your fiasco —out of hand.
Prime Minister, is it too much to ask the Cabinet of the country to hold themselves to standards such as those of my little institution?
You have after the fact asked for a report on the fiasco. What good will that do now? Far better is your decision to get the facts for your decision making from now on!
But isn't this a bewildering state of affairs? The ordinary person has been saying, with overwhelming incredulity, that that is what they expected the Cabinet of the country to have been doing all along.
Why is it so difficult for your government to change its cavalier, reckless course?
Winford James is a UWI lecturer and political analyst
http://www.trinidadexpress.com/commentaries/Yes-Prime-Minister-a-fiasco-211313441.html