By Clint Chan Tack
June 13, 2013 – newsday.co.tt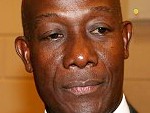 OPPOSITION Leader Dr Keith Rowley yesterday accused Government of using last year's flooding in Diego Martin as a smokescreen to award millions of dollars worth of contracts to its friends. Rowley, who is also Diego Martin West MP, made this charge as he debunked the earlier contribution of Finance Minister Larry Howai during debate on the Finance (Supplementary Appropriation) (Financial Year 2013) Bill 2013 in the House of Representatives.

Rejecting the rosy economic picture painted by Howai, Rowley countered.
"There are two stories. The Government's story and there is the truth. You can believe anything you wish. I defy any of them to contradict what I am saying here," he declared.
Recalling the tragic flooding in Diego Martin which happened one year ago, Rowley said many people were not aware that during those tragic events, the Government proceeded "to rip off the State of Trinidad and Tobago."
"They saw an opportunity to award contracts left, right and centre to Tom, Dick and Harry and their dog under the guise of bringing relief," he charged. Stating the Opposition requested Government provide them with a list of expenditure of all contractors during last year's floods in Diego Martin, Rowley said, "The lists showed there were three sets of monies with respect to that disaster in Diego Martin." He said Cabinet approved a sum of $49.4 million to the Works Ministry for clean up operations but "only $41 million was required" to do that.
"So $8 million was not required. I have constituents who up to now are approaching me for assistance," Rowley said.
To make matters worse, Rowley said Cabinet approved $26 million to the National Security Ministry "for the same thing." He said the documents also showed $17 million was owed to contractors for emergency works and that was the responsibility of the Local Government Ministry.
In light of questions now being asked about an expenditure of $7 million to retrieve a fire truck that fell off the Arima Blanchisseuse Road last November, Rowley said, "I don't know how this Cabinet functions. What is happening with this Government?"
Rejecting Local Government Minister Dr Suruj Rambachan's statement about even-handedness, Rowley countered this was not so regarding an expenditure of $30 million for flood mitigation by that ministry.
PNM MPs thumped their desks when Rowley claimed that every cent of that money was spent on projects "in constituencies which are not represented in any way by the PNM." Dismissing an attempt by Couva North MP Ramona Ramdial to present an opposing argument, Rowley said, "That is discrimination!" He questioned how Government could have found itself in such confusion over "a simple matter like cleaning up after a flood."
Rowley claimed the Legal Affairs Ministry spent $10 million to stage national consultations on constitutional reform from last November to March. Claiming an additional $10 million was spent on these consultations, Rowley said Government had nothing to show for an expenditure of $20 million. Rowley said if Government took issue with what he was saying, it could move a motion and send him "to the Privileges Committee again."
Rowley is currently before the Committee with respect to the email scandal he raised in the House on May 20 during debate on a no-confidence motion in Prime Minister Kamla Persad- Bissessar and the Government. Ramadhar, a member of the Committee, later issued a statement denying Rowley's claims. He said to date the ministry has spent "less than $4 million" on the consultations.
Noting the purpose of the sitting was for the House to approve a supplementary appropriation of $2.9 billion, Rowley said none of the items listed by Government could be categorised as "urgent, critical and unforeseen" expenses. He said items such as a $23 million Costaatt campus in Chaguanas and an $80 million UWI South Campus in Debe were things Government should have planned for.
Recalling Government made great fanfare about the recent State visit of Chinese President Xi Jinping, Rowley said Government was "studiously silent" on its decision to cancel the largest Chinese investment in TT, the Alutrint smelter project.
"The cancellation is costing us. What is it costing us?" he asked. Declaring Government is managing the country's economy in a slipshod manner, Rowley said Public Administration Minister Carolyn Seepersad Bachan's recent call to "lift the veil of Cabinet secrecy" demonstrates that after three years in office, the People's Partnership is clueless about how to govern.
He said the Partnership fails to understand that one of the most basic requirements of any Cabinet is for members "to be open and truthful to their colleagues."
Claiming Howai was telling "Anancy stories" about the real state of the economy, Rowley said the estimated public debt of the country is $61 billion. Saying the external debt had risen from $8.7 billion in 2010 to $17 billion now, Rowley warned that if Government does not prove it has created a steady revenue stream, TT could be heading to a place from which "we cannot come back."
http://www.newsday.co.tt/news/0,179058.html