Politics before food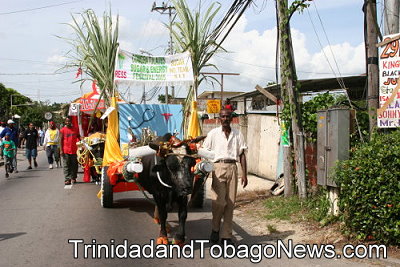 Sugar and Energy Festival Street Parade – October 09, 2005
By Andre Bagoo
May 18 2013 – newsday.co.tt
THE CLOSURE of Caroni (1975) Limited and consequent devastating impact on the agriculture sector and TT's food security, may be directly linked to political considerations surrounding the then PNM government's fear of a repeat of the 18-18 general election deadlock of 2001, Tourism Minister Stephen Cadiz said yesterday.

Contributing to debate on long overdue legislation to close the books of a precursor sugar control board, Cadiz lamented the effect closure of that company had, not just on employees in the sugar belt but on offshoot industries in agriculture including buffalypso and citrus.
Cadiz noted that in November 1999, San Fernando East MP Patrick Manning (who would later become Prime Minister) spoke highly of Caroni (1975) Ltd and its role in food security. A mere three years later, that tune changed.
"They are the only ones who can tell us what happened in 2003," Cadiz said, pointing to Opposition PNM MPs in Parliament yesterday, where debate on the Sugar Industry Control Board (Repeal)(Validation) Bill, 2013 began. "A mere three years after, they came and decided that would be the end of it. One really has to wonder whether that was not really the result of the 18-18 election tie somehow. Somebody's mind changed and decided the best way to deal with 18-18, was to deal with Caroni, because of the effect it would have on the economy in that particular area," the Chaguanas East MP said.
"Caroni Limited was not about sugar. At the end of the day it was about everything else. Its closure was simply one of the ways to deal with the then Opposition (UNC). That is why the closure of Caroni came like a thief in the night because they could have restructured it. That is the politics of the kitchen table," he charged.
Cadiz called on the Opposition PNM to apologise for its record on agriculture, linking the closure of Caroni with the demise of key agricultural sectors. "Until those on the other side apologise to this country for what they did this side, the People's Partnership, the people in Government are going to continue to remind the population," Cadiz said.
He noted that before the rise of the petroleum industry, TT's economy was dominated by agriculture. "There is more to it than the closure of Caroni," Cadiz said. "This is a country where if you stick your finger in the ground, it will grow. We have been farmers for centuries. Tobago used to feed Trinidad. Before the great oil came in 1907, what did this country rely on for its exports? It was all agriculture. All agriculture. We ate locally. Now…US$600 million worth of food is imported!"
Cadiz said the closure of Caroni had an adverse effect on this country's ability to produce the now world-famous buffalypso, which was developed here by Dr Steve Bennett, now deceased.
"By padlocking that gate, not understanding what we were doing, the famous buffalypso suffered," Cadiz said. "Dr Steve Bennett, who received a national award recently, pioneered the buffalypso. He spent years developing the breeding herd.
"You know what they did? They sent it to Venezuela and Costa Rica. They sold off the breeding herd. Imagine that! We spent years developing something that Trinidad and Tobago could live off. What did you do with it?"
Cadiz lamented the visible decline in citrus production since Caroni's closure, particularly on the company's 6,000-acre La Gloria estate near Tableland. He said TT now imports fruit juice concentrate from Belize.
"I remember driving south and we used to see trucks loaded with citrus coming up the road overflowing with citrus," Cadiz said. "You know what we have to do now, Mr Speaker? It's good business for Belize. We have to import concentrate from Belize. I think the Belizean people are very happy to export concentrate to us. So we go from being a net exporter of grapefruit to the United Kingdom to now every juice you see in a box, is concentrate…out of Belize."
He noted that today Angostura has to grow 17,000 acres of sugar cane in Barbados to make up for a shortfall of molasses locally which would previously have been supplied by Caroni (1975) Limited.
Source: www.newsday.co.tt/politics/0,177821.html
***
It's PP who betrayed farmers, says Browne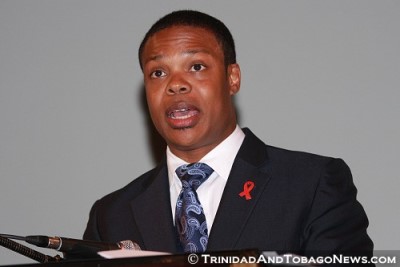 Diego Martin Central MP Dr Amery Browne
By Rhonda Krystal Rambally
May 19, 2013 – guardian.co.tt
No government has betrayed the farmers in this country more than the People's Partnership Government. So said Diego Martin Central MP Dr Amery Browne on Friday during his contribution to the The Sugar Industry Control Board (Repeal) (Validation) Bill, 2013. He went on to say no government had "deceived" farmers more than the current one and destroyed more crops. He then referred to the Oropouche West MP but was stopped by Government MPs, citing Standing Order 36 (5).
The word deceived raised an alarm but House Speaker Wade Mark rose only to say, "Yeah, yeah…ammm…let's…continue, please." Browne read from a column written by Anand Ramlogan in January 2010—before he became Attorney General—titled Black and White Facts. Browne quoted Ramlogan's column, "Although I was pilloried and vilified in the last general election for saying Panday was responsible for the closure of Caroni, Kamla has now made a similar criticism.
"It is a fact, Panday mishandled Caroni. "The closure of Caroni was started by the Panday government which was ready to dismantle it and sell it off." Browne read extensively from the column, which dealt with the closure of the sugar company. He said his message for farmers or anyone involved in the sugar cane industry was that the Government could not be trusted at all. He said Caroni (1975) Ltd was the most precious opportunity for the Government.
Browne said, "When they wanted to crush and destroy Mr Panday, that was the weapon against him. "They said he was the one…his adminstration…the UNC under Mr Panday, who started the destruction of Caroni (1975) Ltd. "Now that they are in government, Mr Speaker, they have erased that memory and are now trying to use the same Caroni closure and pin it on the People's National Movement. "Mr Speaker, that is political schizophrenia."
Source: www.guardian.co.tt/news/2013-05-19/it%E2%80%99s-pp-who-betrayed-farmers-says-browne