By Raffique Shah
January 13, 2013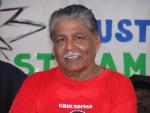 HILTON Sandy's Calcutta ship gaffe may well sink the stalwart's personal political pirogue—after the elections, not before. The furore his Freudian slip has triggered would hardly influence the outcome of the THA election. Battle lines were drawn long before polling day was named, and I sense that the "swing votes" in Tobago hardly make a difference. So Sandy's punishment for a thinly veiled racial innuendo must come from his party since the electorate, at least a significant number of them, are not offended by it.

Sure, Sandy was a fool to say on a platform what he had on his mind or what he thought would galvanise more Tobagonians to vote PNM. But that only makes him stupider than so many others who, over the years, have used the race card in pursuing their political ambitions and agendas. Race in politics may be as an explosive cocktail in many multi-ethnic societies, but not in Trinidad and Tobago. Here, it's as useful a tool as the promotion of unity. Indeed, the two seemingly polarised positions often coexist quite comfortably.
The People's Partnership promotes itself as the most integrated administration in the history of the country, and outwardly it is. The ethnic mix in the Cabinet and in most upper-level appointments supports its claim to fame. However, it has ruthlessly savaged a significant number of appointees based solely on their ethnicity or their perceived political allegiances. I shall not enunciate the names of victims I personally know or know of, or those I've heard or read of.
In many instances that I allude to, ministers and other high government officials have acted as "judge, jury and executioner", firing or terminating persons without due process. They know that even if their victims have grounds to challenge their dismissal, they are hardly likely to seek redress in court because of the tedious process and the cost.
If we compare this racial and political vindictiveness with Sandy's stupidity, it might well be akin to the elephant and the ant. But Sandy's big-and-loose mouth has landed him in a lot more trouble than racially driven government ministers whose high-handedness goes unnoticed by the public. In fact, in several instances of racially motivated dismissals, Government has quietly settled with the victims, paying out significant sums to those who sought justice, but having the recipients bound by confidentiality clauses.
While the People's Partnership Government is culpable in this regard, it is not the only administration that used race in politics. There were several high-profiled dismissals or failures to appoint that occurred during the Patrick Manning era that were successfully challenged in court. Interestingly, Attorney General Anand Ramlogan, as a legal practitioner, earned quite a reputation as advocate in those matters.
Race in politics in this country is not new. It was always the not-so-secret weapon to rally the tribes, especially during elections and mostly in core ethnic communities like Laventille, Morvant, Penal and Caroni. Such interventions pre-date the PNM and the PDP/DLP in 1956, but because greater power was at stake from 1961, the modern Afro-and Indo-based parties perfected the art of appealing to people's base instincts.
Mark you, this surreptitious war was hardly waged in public except on rare occasions when, as happened with Sandy, something on the mind slipped from the tongue. There were politicians who did not give a damn and openly used the epithets "nigger" and "coolie". I remember hearing from older people in the 1970s about Bhadase Maharaj's disregard for niceties, his frequent, open use of "nigger" even as his mainly Afro-thugs hovered around his meetings. What a thing!
Eric Williams, scholar that he was, was more subtle. His use of "recalcitrant minority" to brand Indians probably had to be translated before it was understood by ordinary Beharrys. I should add that I have heard of another context in which the term was used, suggesting that Williams did not target Indians as a race—I don't know the truth of it.
The events of 1970 attempted, with limited success, to cast race in politics into the dustbin of history under the banner, "Indians and Africans, Unite!". In their immediate aftermath, there was the forging of an alliance between Ray Robinson's ACDC and Vernon Jamadar's DLP—a hint of unity between the two races. But NJAC stayed aloof and the alliance did not contest the 1971 general elections, leaving Williams and Bhadase to make a mockery of the democratic process.
Race in politics persisted post-1976 in spite of my own best efforts (and those of other notable persons) through the multi-ethnic ULF (check the names of our candidates and frontline activists if you doubt me). But two factors scuttled that forward move. During an election-eve motorcade in the East-West Corridor, pockets of inebriated Indians, feeling a surge of power, shouted at mainly-Afro people on the roadside, "We comin' for allyuh ar** on Monday!"
The motorcade was on Saturday. By sun-up Sunday morning, PNM foot soldiers were knocking on Afro-doors in enclaves across the Corridor: "Yuh want to wake up with an Indian PM on Tuesday?" Whatever outside chance the ULF had, evaporated in the race-fog.
Then there was Basdeo Panday's split personality. One night he would deliver an appeal for racial harmony such as you have never heard. You would cry for the beloved country. One week later (certainly after the split in the party), Panday would unleash insults so strongly that you would cry blood for your cussed country!
Between then and now, from the NAR to the PP, real patriots have chased the crooked shadow of national unity—with little success. For sure, no monolithic Indian or African-based party will ever win power on its own again. But we have not destroyed the race bogey, whatever our pretensions, however sanctimonious we may portray ourselves as we savage Sandy.