By Newsday Staff
November 21, 2012 – newsday.co.tt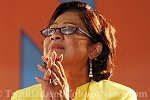 PRIME MINISTER Kamla Persad-Bissessar has offered "prayerful support" to the mother of environmentalist Dr Wayne Kublalsingsh — currently on a hunger strike — for his health and well being, but has also noted that she, as Prime Minister, has a country to run.
"As Prime Minister, I also have a duty and an obligation to the nation in ensuring that all matters are dealt with fairly and in the interest of everyone," Persad-Bissessar said in her letter of response to Kublalsingh's mother Vilma Kublalsingh, who wrote the PM on Monday asking that she meet with Kublalsingh.

Kublalsingh was yesterday in his sixth day of a hunger strike outside the Prime Minister's St Clair office as he protests the proposed Mon Desir to Debe section of the billion-dollar Point Fortin to San Fernando Highway which is in the preliminary stage of construction and the failure of Persad-Bissessar to meet with him.
In her letter, Persad-Bissessar wrote: "As you know, I did meet with Wayne and took the decision to put on hold a section of the extension of the Solomon Hochoy Highway to Point Fortin development, until discussions were held and a technical evaluation conducted."
The conditions, she said, were met and compromises made. "But the insistence of the Highway Re-route Movement to stop the project," Persad-Bissessar said, "is not tenable and the lives of hundreds of thousands of citizens who will enjoy the positive benefits of the road linkages for generations to come cannot be denied."
While she admired Kublalsingh's strength of conviction, Persad-Bissessar wrote: "I am not so sure that the measures used to express his views are good for him or the cause he represents."
Persad-Bissessar said she shared, "a deep understanding of the need for causes such as Wayne's but not of the effects in this particular matter."
Persad-Bissessar assured Vilma Kublalsingh that as a mother and Prime Minister, she has put in place all measures, "to ensure your son is well looked after albeit within the confines of whatever he allows."
Vilma Kublalsingh's "brief note", Persad-Bissessar said, "tugged at my heart strings when I read it for I know what your son's actions must be putting you through." Responding to Persad-Bissessar's letter yesterday, Vilma Kublalsingh who sat with her son during the vigil outside the Office of the PM, said: "well she said the letter tugged at her heart strings…which I wanted to happen. But I really did not get any effective answer to the main issue, that is, finding a solution to the Re-route Movement and their desire to have the route moved. It does not suggest that she is going to do anything like that. She just sympathised with me and that's it."
On Monday, Vilma Kublalsingh said she told Persad-Bissessar: "the type of person (Kublalsingh) is, I did not want anything to happen to him and I am relying on her judgement to meet with him."
And like Monday, when a number of persons met with him including Health Minister Dr Fuad Khan — whom he chased off with some choice expletives — Kublalsingh was again met yesterday by several persons as he sat and at times lay on a bench under a tent.
Among those paying Kublalsingh a visit yesterday was Legal Affairs Minister Prakash Ramadhar whom Kublalsingh, while not cursing, warned the minister to, "leave me alone."
Roman Catholic priest Fr Clyde Harvey prayed with Kublalsingh and later, former Minister in the National Alliance for Reconstruction (NAR) government of th 1980s, Lincoln Myers — who himself led a hunger strike on the steps of the Hall of Justice, met with Kublalsingh.
Kublalsingh yesterday told reporters he plans to fast for 40 days to protest construction of the Debe to Mon Desir section of the San Fernando to Point Fortin Highway.
Kublalsingh, leader of the Highway Re-Route Movement, said he is dehydrated and weak but he alone will notify "my people" on when his vitals get extremely low. "I do not want anyone to tell me when the time has come, I will determine that. I don't need any advice," Kublalsingh said. He reiterated that he will not go into any ambulance provided by the government noting that his family had arranged a private ambulance to take him to the Port-of-Spain General Hospital if his condition deteriorates. Yesterday, two ambulances — one from a private company and the other, an EHS ambulance — were parked nearby. He yesterday also made an about turn saying that he no longer wants to meet with PM Persad- Bissessar but wants her to keep her promise and establish a committee to review the Debe to Mon Desir section of the highway project.
Just before leaving the protest site for the day, Kublalsingh told reporters he was advised that his health was a "little bit under risk" but he feels fine.