MSJ Out Partnership
By Cecily Asson
Monday, June 18 2012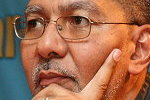 In a highly anticipated move, political leader of the Movement for Social Justice (MSJ) David Abdulah yesterday announced his party's withdrawal from the coalition People's Partnership (PP) and his resignation as a Government Senator.

In response, Prime Minister Kamla Persad-Bissessar said she has accepted his resignation, thanked him for his service, but in a parting shot noted that the demands he had made of Government were "impossible, unreasonable and reckless."
Full Article : newsday.co.tt
Flashback: What now, MSJ? T&T needs to know
Prime Minister's statement on the withdrawal of the Movement for Social Justice (MSJ) and resignation of David Abdullah from the Peoples Partnership Government:
June 17, 2012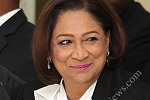 David has informed me of the decision by the MSJ to withdraw from the People Partnership government and I am in receipt of his letter of resignation from the Senate. I respect the decision of the MSJ and David so to do.
I am compelled to tell you that the list of demands made by David over the past few months were always impossible, unreasonable and reckless. It seems David's entrance into Government never allowed him the advantage of a national perspective. He remained trapped in isolationist thinking. You cannot negotiate Governance like a Labour Union leader representing the interest of only one group. In Government your responsibility is larger than that; it seems not everyone can make the shift. As for David's accusations they are vacuous and without a shred of evidence. We have established a more transparent and accountable Government than any other before. David's comments and criticism as a parting shot fired from the gun of a new political aspirant is an ambitious quest for power.
We do take this opportunity to thank him for his service and wish him all the best.
We will continue with our labour agenda regardless of the absence of the MSJ. Minister Errol Mac Leod whose life long dedication to the struggle of the labour movement can never be challenged, and he remains as a huge resource within the Peoples Partnership Government.
So in a sense, the government can be strengthened by David's predictable but timely departure.