Express Editorial
May 22, 2012 – trinidadexpress.com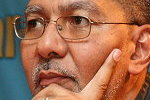 THE "stand Strong" headline theme of the advertising for the People's Partnership's anniversary event on Thursday, must attract serious interrogation for its validity. The believability of print ads pushing that theme, appearing on Thursday, was immediately called into question by the leader of the Movement for Social Justice (MSJ), a member of the ruling coalition.

MSJ leader David Abdulah dissociated his organisation from the very idea of "celebration" that the People's Partnership boosters were urging on their constituent groups and the general public. The Mid Centre Mall, Chaguanas occasion, promoted as a "second anniversary celebration" has been deemed both untimely and "inappropriate" by the MSJ, which referred to "so many crucial issues facing the country".
Since T&T is not at war nor stricken by natural disaster, to include "live entertainment" in an event marking the second anniversary of an election victory hardly seems out of order. Again, as "crucial issues" are almost always "facing the country", the inappropriateness of a time for celebration lies in the eye of the MSJ beholder.
What was clear from the moment of Mr Abdulah's intervention, and is only clearer today, is the MSJ's determination that the People's Partnership no longer constitutes the company it wants to keep. That it wants out is unlikely to surprise the public, which has been used to hearing ever-louder sounds of its discomfort in erstwhile cohabitation within the Partnership.
Last March, OWTU president general Ancel Roget likened the MSJ's association with the Partnership to an "abusive relationship". Like other trade union leaders identified as main spokespersons of the MSJ, Mr Roget has been preparing the ground for ultimate withdrawal which, as of yesterday, has been all but finally effected.
"I will take it to the MSJ executive," said Mr Roget in March, "that they leave the People's Partnership now." In an even blunter statement of position, he added: "If the MSJ does not agree to leave, the OWTU will leave the MSJ."
By yesterday, the photo of Mr Abdulah, who is also general secretary of the OWTU, had been, on his demand, removed from the "We Stand Strong" ads. Also struck out is the listing of his name as one of the "feature speakers".
Such embarrassing last-minute amendments must be taken as a measure of serious mishandling and mismanagement attributable to Prime Minister Kamla Persad-Bissessar, UNC leader, and also leader of the Partnership. It is up to Mrs Persad-Bissessar, who should have seen it coming, to put on a brave face in presenting a platform materially diminished from the slate offered to voters two years ago.
The country will also now look to the MSJ to advance its own policy and programme for T&T, and to demonstrate in terms of political realism how it seeks their implementation—beyond the all-too-familiar rantings and ravings in protests and marches.
www.trinidadexpress.com/commentaries/What-now-MSJ-TT-needs-to-know-152435985.html