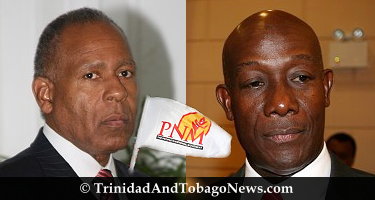 Budget debate turns into duel…
By Kyle Jeremiah
October 1, 2008 – guardian.co.tt
The 2008-2009 budget debate took a dramatic turn last night in Parliament, after a war of words erupted between Prime Minister Patrick Manning and Diego Martin-West MP Dr Keith Rowley whom Manning dismissed in April.

The heated exchange between the two most senior PNM officials in the House unfolded in the presence of only PNM members, after the UNC MPs had walked out of the chamber in protest of Manning's special request to have an extension of time to give his contribution to the 2009 budget debate.
Detouring from commenting on the budget, Manning fired back at the political tongue-lashing he received from Rowley on Monday, by asking Rowley to account for $10 million that disappeared from the Cleaver Heights Housing Project.
On Monday, Rowley took Manning and the Government to task on various issues.
Last night in Parliament, Manning quoted from a May 3, 2005, letter, which claimed that the cost of the residential units amounted to $92,649,000, with the infrastructure costs at $40,800,000.
"When you add these two figures," Manning said, "You get $133,449,000, but the contract is for $143,449,000."
At that point, Rowley—then the Housing Minister at the time of the project—intervened to ask whether Manning was impugning improper motives against him.
Manning shot back: "I ascribe no motive to the Member for Diego Martin West. All I am saying is that the Member was the minister of housing on whose recommendation that the Cabinet took a decision for $143 million.
"And therefore I cannot get an answer anywhere else perhaps he (Rowley is in a position to assist me and I am asking him—"Where d money gone?"
Rowley immediately denied any involvement in any of the details of the awarding of the contract and put that on record without "fear of contradiction."
In turn, Manning said he was not "pursuing it" but said rather, that the matter would be the subject of inquiry.
"Because I will now officially ask about it. Because I would like to know what has happened here," Manning said.
He added that since the budget debate started, numerous Members of the House had "impugned" his integrity.
Rowley barked from across the room, "So now you impugn mine!"
"I had two strikes against me before, and this is the third," he said.
Manning quipped, "Do so eh like so."
Manning had also previously focused on the allegations levelled against him in the previous days of the budget debate, particularly allegations made by Rowley about Manning Woodford Square statement: "If the leader falls, all fall down."
The statement was made by Manning during the no-confidence motion against him two weeks ago, which Manning said was essentially a no-confidence motion against the Government.
He reflected on the "NAR juggernaut" that was in Government from 1986-1991, which had the majority of Members, whereas the PNM only had three.
Rowley, Manning recounted, was the person who suggested that they target the NAR's leader because if the leader fell, all would also fall.
Manning then claimed it was a strategy that Rowley was now using within the PNM.
"Have no assurance that your strategy will work," Manning advised.
Manning also spoke about an article published in the Trinidad Guardian in June. This reported on an article in a foreign newspaper concerning Udecott chairman Calder Hart. Manning said this was a "diabolical" plot.
He said that when the foreign newspaper was contacted by Hart's attorneys, the foreign paper indicated that no such story was printed.
"Who has such a diabolical mind in this country to do such a thing?" Manning asked.
Manning also made allegations about UNC deputy leader Kamla Persad-Bissessar.
http://www.guardian.co.tt/archives/2008-10-01/news8.html
NEWS: SEPTEMBER 30, 2008
Rowley on the floor 'Come clean with Sunway'
Former Minister Keith Rowley is calling on Government to come clean on details of a memorandum of understanding with Malaysian company Sunway, in which Sunway is to construct highways, hotels and other infrastructural projects in T&T.
Rowley Roars
…tears into Govt policies, wades into Manning in Budget debate
Rowley: Inflation a threat to people
PNM DIEGO MARTIN West MP Dr Keith Rowley yesterday de-clared that inflation and not crime "is the most serious threat being faced by the people of Trinidad and Tobago (TT) today."
Govt praises UDeCOTT
Government yesterday fired back at former cabinet minister, Dr Keith Rowley, with full praise of the very enterprise that led to his firing-the Urban Development Company of Trinidad and Tobago (UDeCOTT).
'Manning's boasting not PNM's way'
Prime Minister Patrick Manning found himself at the receiving end, yesterday, of the political wrath of the minister he fired in April–Keith Rowley.
NEWS: OCTOBER 1, 2008
PM, Rowley declare war
THE BATTLELINES between Prime Minister Patrick Manning and his fired Trade Minister Dr Keith Rowley were drawn during last night's Budget debate in Parliament as the bad blood between the two men for the first time boiled over publicly in the parliamentary chamber.
Rowley abstains, UNC walks out
Diego Martin West MP Dr Keith Rowley last night abstained from voting in favour of the House of Representatives suspending one of its Standing Orders to allow Prime Minister Patrick Manning to speak beyond the 75 minutes normally allotted to any MP during a Budget debate.
$10m mystery
Manning and Rowley square off on 'missing' housing funds
Ramesh: PM using House to pressure Rowley
Prime Minister Patrick Manning used the Parliament for a political duel between himself and Dr Keith Rowley, Opposition Chief Whip Ramesh Lawrence Maharaj said last night.
Rowley: What $10m Manning talking about?
"I would dismiss that as an act of desperation on the part of the Prime Minister seeking to tarnish my name so as to get even or to create suspicion over my character," Rowley said.
NEWS: OCTOBER 2, 2008
Speaker must end abuse of his office
Tuesday night's decision to suspend Parliament's standing orders to allow Prime Minister Patrick Manning to speak for more than the 75 minutes normally allotted speakers in a budget debate turned out to be an even more egregious abuse of the office of the Speaker.
Investigate me!
EMBATTLED PNM Diego Martin West MP Dr Keith Rowley yesterday dared his political leader, Prime Minister Patrick Manning, to bring any evidence linking him (Rowley) to the alleged disappearance of $10M out of $144M set aside for construction of Cleaver Heights housing development in Arima, during Rowley's tenure as Housing Minister.
Parliament duelling ground for PM, Rowley
THE Opposition kept good on its threat to walk out of the House of Representatives on Tuesday in protest over an extension in the speaking time given to Prime Minister Patrick Manning during the Budget debate.
Rowley challenges Manning: Say it outside!
The war of words continues between Diego Martin West MP Dr Keith Rowley and Prime Minister Patrick Manning.
Probe PM's Money Claim
Rowley, Elias call for forensic enquiry into $10m mystery
'Serious questions raised on executive'
Sacked trade and industry minister Dr Keith Rowley has described as "frighteningly startling," Prime Minister Patrick Manning's revelation that he has been "monitoring" links between Siparia MP Kamla Persad-Bissessar and an employee of the Integrity Commission.
Rowley: Frightening behaviour by Manning
Set up probe now!
Prime Minister Patrick Manning's suggestion that there is a $10 million discrepancy in the cost of the Cleaver Heights Development Project in Arima has prompted Emile Elias, executive chairman of NH International Caribbean Ltd (NHIC), to join the chorus of criticism against Manning.
Don't duck and run
Congress of the People leader Winston Dookeran is urging embattled Diego Martin West MP Dr Keith Rowley not to "duck and run" from the political fight between himself and Prime Minister Patrick Manning.
Clash worries Mayaro PNMites
The "personality clash" between Prime Minister Patrick Manning and Diego Martin West MP Dr Keith Rowley on Tuesday night in Parliament is causing concern among the party's membership.
Elias: I will not remain silent
Emile Elias's letter in part