By Stephen Kangal
October 01, 2008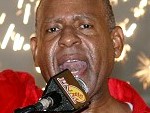 On what basis can PM Manning justify spending an astronomical $503m (one percent of the 2009 budget that is equivalent to the sum for the construction of the Tobago power plant) to host the Summits of the Americas and the Commonwealth in 2009 if not to boost his already inflated ego? What diplomatic goodwill and political and economic benefits will accrue to the pauperized people of T&T from hosting these Conferences when we are burdened with a poverty rate of 27%? The poverty gap is widening and pensioners on fixed incomes are ketching their "nennen".

On top of this huge sum PM Manning via UDECOTT has spent a further two billion to erect the Water Front Conference Center and the Hyatt where the meetings will be held. The escalating headline inflation rate of 14 per cent is already decimating the dwindling middle class that he has targeted for punitive tax measures to raise the $503m.
It is clear that the Manning Administration has decided to lay down this red carpet diplomatic extravagance for visiting delegations to flaunt the oil and gas bonanza of T&T as well as to convey an illusion of wealth, prosperity and generalized well-being to the world. He has increased unnecessarily the price on premium gasoline and hiked motor vehicle tax totaling the half-billion that the middle class is being called upon to pay to fund this half-billion dollar diplomatic largesse.
T&T does not stand to gain any technical assistance from the Commonwealth because of its high per capita income. As for the headquarters of the FTAA being located in POS, President Chavez has already performed the final rites on this possibility with his ALBA alternative.
Like the manner in which he is prosecuting his proposed unilateral OECS political union demarche, PM Manning must show respect to the people of T&T and tell us how T&T will gain from this $500m and rising foray into the unknown.
There is a need to scale down the level of financial permissiveness being expended to impress visiting Presidents and Prime Ministers while the basics are not being provided to the people.