By Stephen Kangal
March 19, 2012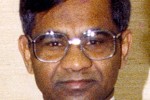 It was culturally fulfilling, timely and enlightening to attend the public presentation of a ground-breaking PH.D dissertation produced by renowned cultural activist, Kathak dance exponent par excellence and former distinguished Permanent Secretary, Dr. Sat Balkaransingh held at NAPA on Wednesday last. The work is entitled, "Trinidad Space Speaking through Indo-Trinidadian Rituals and Festivals" will contribute immensely to cross-cultural understanding beyond the confines of the Indian community of the culturally persistent linkages that exist between ancestral India and its culturally-rich, diasporic community in T&T.

The disclosure of the pertinent findings/linkages in the study coincides with and reinforces the intellectually stimulating ferment/debate generated locally by the recent state visit of PM Kamla Persad-Bissessar to her ancestral homeland including the enormous good will that she attracted both from the Indian media, the Congress Government headed by Dr. Manmohan Singh, the Indian private sector and the people of the Indian States of Jaipur, Bihar and the village of Bhelupur. The Prime Minister even admitted that Bihar was in her DNA and did the "goar lagay" ritual to the President of India evoking much reaction locally.
Dr. Balkaransingh sought to establish both the original cultural sources/practices as well as the progressive development/alterations based on innovation and technology of the indigenous rites and rituals associated with the T&T observances of Divali, the arena theatre of Ram Leela, Christmas, the recent Shivaratri celebrations that coincided with the street theatre of Carnival 2012, the upcoming Holi, Pichakaree or Phagwah Festival, the symbolism and religious significance of the Jhandis, Carnival and the Hoosay Festival.
It was evident that these existing cultural linkages with mainland India can be harnessed as an important pillar of support to the cultural tourism initiative that is being incubated to target the potential tourist market of India and the 30m diaspora based on the recent bilateral agreements and the new interest in new niche markets for the local product away from sun-sea-sand traditional attraction.
The study enhances the concept of the preservation of the original cultural/linguistic landscape of Uttar Pradesh and Bihar circa 1845-1917 in T&T. That can appeal to cultural aficionados/scholars from around the world and entrench and diversify the sources of our earnings from tourism dependence. Multiculturalism in the classroom will make a bigger impact on removing current cultural ignorance by the availability of seminal resource materials from Dr. Balkaransingh's research.