By Raffique Shah
February 25, 2012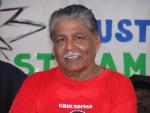 ON Ash Wednesday, two articles in the Express perked me up. In the first, Planning and Development Minister Dr Bhoe Tewarie, interviewed in the Grand Stand, told reporter Anna Ramdass that soca star Machel Montano "should be leading the charge in selling Trinidad and Tobago internationally". Vowing to pursue this quest at Cabinet level, Dr Tewarie added, "…I think Machel is in a class by himself… we should try to support an external thrust led by Machel in the world outside…"

I can understand the Minister's euphoria over Machel's wild successes in this his 30th year as a performing artiste. He ran away with the two Soca Monarch titles (and $2.5 million), and by Wednesday he had added the Road March title to his achievements. Indeed, for all the greatness of legendary local artistes like Sparrow, Kitchener, Stalin and David Rudder (to name just four), Machel, without doubt, has earned more money in his time than they did in their careers.
And Machel is not merely a super-performer: he is a damn good singer. I have listened to him croon out some songs much the way Sparrow or Rudder would. However, he has chosen to carve his career out of ditties that appeal to revellers-on-a-Carnival-high, commanding them to "pump yuh flag!" or "raise yuh hand" or whatever else would move the throngs at fetes and on the big days.
He is not singular in this regard. SuperBlue started the trend back in 1991 with "Get Something and Wave", followed by Preacher (1994, "Jump and Wave") and a string of "command" ditties that revellers seem to love. This year, too, Faye Ann Alvarez had big men and women rolling on stages and streets. I am not trying to analyse these ditties, but it was instructive that Machel's composer, Kernel Roberts, said "Pump Yuh Flag" came from an advertising jingle that was not accepted by the company for which he had done it. At the same media briefing, Machel said he had had a row with Roberts because he felt the song had no melody.
Fast forward to some pages later in Wednesday's Express, to a story about a two-and-a-half-hour documentary titled Marley. It premiered at last weekend's Berlin Film Festival, the work of Oscar winning filmmaker Kevin Macdonald. According to the report, the film was received with cheers at what is considered one of the major film festivals. The in-depth look at Bob Marley's life contains 50 of the reggae artiste's songs, and interviews with other great singers like Bunny Wailer and Rita Marley.
Macdonald said in the report, "Anywhere you go in the world, you find his (Marley's) image, his music, his wisdom—literally anywhere you go." So true. More Trinis, no doubt, own and wear Marley T-shirts than those depicting any other entertainer or sporting star. The same can be said of his music. Indeed, in 1999, Time Magazine named Exodus Album of the 20th Century. Bob has had so many chart-toppers in so many countries, enduring hits that keep on riding decades after his death in 1981 at age 36.
So Bob was a freak, a legend in life and in death, a once-in-generations entertainer. But he was so damn good that even though he was not the first reggae artiste, or the last, he put Jamaica on the world entertainment map, boosted its tourism sector to the extent that not even the country's alarming murder rate keeps visitors away. And I don't mean returning residents who comprise the bulk of our Carnival tourists. I mean real tourists. A few years ago, I happened to attend a conference in Jamaica that coincided with the annual Reggae Festival and I saw evidence of what I write.
Can Machel do for T&T what Marley did for Jamaica? Can any of our soca artistes, or all of them combined, deliver one-hundredth of what Marley did? I think not—and this view is not rooted in my take on soca. Machel has been around for 30 years, and over the past decade, he has transformed himself into a successful local "brand". But will it fly in the international entertainment arena? Again, I think not.
I hate to put a damper on Dr Tewarie's ambitious project, but reality is that soca as an art form appeals mostly to Trinis or Caribbean people, although reggae will outshine it any day, anywhere—even in T&T. We must ask ourselves why so few soca songs have broken into the international arena. I can think only of Arrow's "Hot, Hot, Hot", although I am sure there were a few more.
We cannot take jingles and market them as international hits. Let us face harsh realities. Marley sold message, melody, good lyrics, songs to make "man and woman" cry, skank, transport themselves into another world.
We have to match these qualities if we wish to cash in on the global entertainment industry. "Pump Yuh Flag" might send tens of thousands of revellers at Brooklyn's Labour Day or Notting Hill Carnival into ecstasy. But how many people outside of the diaspora would buy CDs with the song, or download it in MP3 format?
If I were to advise Minister Tewarie, I would suggest that Government summon an "entertainment summit". Put together performers like Rudder, Sparrow, Robbie Greenidge, Mungal Patasar, Boogsie Sharpe, to name just a few, have them brain storm and come up with a formula to produce and market musical Trinidad and Tobago. We have talent, tonnes of it. But don't let the stupor of Carnival delude us into believing we still stage the "Greatest Show on Earth", or that what passes for music here is what the world has been waiting for.