By Raffique Shah
February 18, 2012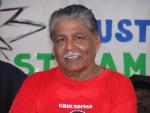 NOTHING that I wrote last Sunday should be misread as the lament of an "ole geezer" who has had his Carnival day and who now wants to deny others the joy of the festival. Quite unlike some "sourpusses" who see nothing good in Carnival, I believe ours is a unique mix of music, artistry, colour, spontaneity, high-energy, sexuality, conviviality and more, much more. So, as this year's festival comes to a climax over the next two days, I encourage Trinis-to-de-bone and our foreign guests to "play mas". Have a whale of a time, but be safe.

Carnival has always meant a whole lot to me. My mother, watching her eldest offspring gravitate towards calypso, pan and mas as a boy, attributed it to my birth date—the Thursday after the first Carnival post-World War II. Maybe the sounds of the first steelbands to hit the streets in early March 1946 following a four-year suspension as war raged, registered on me in the womb.
Whatever the influences, I have always been a Carnival person, one who has never played mas with a band, but who has enjoyed the festival more than my costumed or pan-playing friends. I lived by the Kitchener dictum long before and well after my favourite bard sang, "De road make to walk on Carnival day…" Like so many others, I walked the road and jumped up with every passing band, refusing to be restrained by one-band discipline in this festival of wild abandon.
In many ways I envy those who live close to the centres of activity and who can step out of their homes and literally step into the madness. People who must travel to Carnival centres face horrendous traffic, problems to secure parking if they drive their vehicles, then similar challenges on their return trips afterwards.
I note that the Transport Ministry is experimenting with a "park and ride" alternative this year. I hope it works smoothly, that those who use it are not stranded in Port of Spain or have their vehicles stolen or tampered with.
Panorama will have risen to a crescendo last night (I am writing this on Friday) with a musical fare like no other—of that I feel certain. I don't know how the judges determine what performance is better or best when there is so little, if anything, that separates one band from the other. Whichever band takes the title—and I do have my preferences—I think the finalists, and even some bands that did not make it there, are all deserving of the highest accolades.
Most of all for pan-fans like me, there would have been no "greens" distraction at the finals. People who attend this stellar event come to hear sweet steel, nothing else. Another positive development in the Panorama is the way bands like Despers have taken their blows without griping or resorting to protest or legal action. It shows a maturity that was missing not so long ago.
Indeed, time was when bottles and more would fly when a band felt cheated. Despers' pannists and supporters know that the band's exclusion from the finals takes away nothing from its stature.
Having griped last week about calypsoes and calypsonians being given the short end of the stick by the media and the overlords of Carnival, I must say that having listened to most of the 40 semi-finalists, I was not impressed. There were a few good songs, many ordinary ones, and too many that would have hardly made it past the tents in calypso's golden years. Not one song was outstanding.
This may sound like harsh judgment of some pretty good calypsonians, both veterans and rising stars. But it's the truth. Much the way people say they cannot remember last year's Road March, or the last five years' for that matter, who would remember any calypso from this year's crop? Time was when, in any season, five or ten songs would stand out, and one or two would evolve into classics. Kaiso fans would be humming melodies long after Ash Wednesday, and people like me would remember full lyrics decades later.
What compounds the crisis is that nowadays most of the songs that make it to the tents are the products of three entities—composer, musical arranger and singer. While it is true there were always composers who furnished some bards with lyrics, they were more the exception than the rule. Most calypsonians were masters of the art form, doing everything themselves, from the germination of a song-idea to delivering memorable performances in the finals.
If, therefore, today we have two unseen contributors behind each finalist (not all), and we still cannot identify one outstanding song, something is very wrong. Calypso, as eight-time monarch Chalkdust sang some years ago, is in the hospital. Maybe it's in the ICU! Young artistes like Karene Asche, Heather McIntosh, Kurt Allen, Brian London, Duane O'Connor and a few others are trying to resuscitate the art form, but without much success.
So even as I knock the banal party songs that dominate the airwaves and fetes, I find it difficult to defend calypso in today's context. Give me something to crow over. Give me a "High Mas" (Rudder, 1998), a "Sinking Ship" (Gypsy, 1986), a "Jahaji Bhai" (Marvin, 1996), a "Voices from the Ghetto" (Sandra, 1999), a "Black Man Come Out to Party" (Stalin, 1991), a "Stranger" (Shadow, 2001)—give me something good, if not great.
I hate to gripe on Carnival Sunday. I should be celebrating instead. I should be happy that the Merry Monarch reigns. I should be joining the throngs, chipping, chanting… Look, play mas! Enjoy the Carnival.