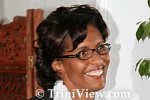 New voice but same high-spending story
SPEAKING for three hours and seven minutes in what was her historic presentation of a national budget in the House of Representatives yesterday, Finance Minister Karen Nunez-Tesheira broke the first rule she established going in. She had pledged not to deliver a lengthy address.

Same ole, same ole
MINISTER of Finance Karen Nunez-Tesheira delivered a $49 billion Budget that made several prudent investments in the country's economy, ecology and education, but which otherwise left observers scratching their heads to wonder what was actually new.
Karen: I can't please everyone
Nothing about crime, food prices–Kamla
Siparia MP Kamla Persad-Bissessar laments that no measures have been implemented in the $49.6 billion budget to address the major issues facing the country–crime, food prices and inflation.
$2.65 billion for Tobago
Free ferry passes for senior citizens
Brake On Cars
Premium gas up by $1 a litre
Karen delivers mixed bag of fiscal measures
Motorists began paying more for premium gasoline as of 5.10 pm yesterday.
Minister: Gas hike will curb road rage
Nunez-Tesheira said the new premium gasoline price was not targeting the middle class, even though a large number of car owners, including taxi-drivers, use premium gasolene.
Budget of good and bad news
While there are cogent arguments for creating a gasoline price differential, the minister should have been able to point to a scientific survey to support her contention that the increase in the price of premium unleaded gasoline will only affect the 'high end' of the driving market.
…Dealers: Increases to affect low-income citizens
Gasoline and motor vehicle tax increases in the National Budget will hurt middle- and low-income earners the most, as car prices rise almost immediately, automobile dealers said yesterday.
2008 budget presentation: Further Highlights
Increase in stamp duties. For example, properties valued over $850,000 but less than $1.2 million will have stamp duty of three per cent and those over $1.7 million will have a stamp duty of seven-and-a-half per cent.
Karen runs into Opposition flack
Tesheira, dressed in her signature grey, fielded a considerable amount of picong and flack from the Opposition benches as she delivered her record $49 billion package, the biggest in local budget history to date.
Kamla predicts Budget 'meltdown'
Kamla: More inflation, meltdown coming
Panday: Mere pittance for poor people
Rowley promises explosive debate
DIEGO MARTIN West MP Dr Keith Rowley yesterday disclosed that he will break his four month silence in the House of Representatives when he speaks during the 2008/2009 Budget debate which will be kicked off by UNC A Siparia MP Kamla Persad-Bissessar at 10 am on Friday.
Interesting and ambitious–Rowley
Diego Martin West MP Dr Keith Rowley says the national budget was "very interesting and ambitious."