By Raffique Shah
February 12, 2012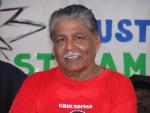 I HAVE been nursing a not-so-quiet anger since last Sunday's Panorama Semi-finals, and no, it has nothing to do with Despers being omitted from the finals, although I feel "a how" about that. I have asked fellow pan-fans, many of whom, like me, no longer make the pilgrimage to the Savannah, but who, nevertheless, do not miss a note, "How could they show total disrespect to pan, to the thousands who labour in panyards to produce one of the world's biggest musical extravaganzas?"

By now readers must have guessed what angered me: the dotishness of Pan Trinbago officials who, in the name of the almighty dollar, sacrificed the sanctity of the art form by allowing well-heeled party animals to stage a big fete on the "Greens" while pannists, most of them teenagers, played with their hearts to impress the judges and real pan-lovers. How could they? As I sat in my living room tuned into what is for me one of the best events in Carnival, I could hear the distant din attempting to drown out the sweet sounds of steel. And I wondered what drove Keith Diaz and his executive, all of whom are or were pannists, to such a desperate distraction?
Forty thousand people cram the Savannah, not counting at least half that number crawling around the "drag" and the other "greens", all supposedly pan-fanatics. I have not added another 100,000 or more taking in the show through the electronic media, a potential source of revenue for pannists if only the officials know how to tap into that market through advertising. The overseers of cricket in India have done it, having noted declining numbers at ODI and Test matches. It is why they can pay $1m for Sunil Narine to play in the IPL T-20 tournament. They are exploiting the global reach of modern telecommunications, milking the advertising dollar.
In contrast, our pan officials seem to be mired in the biscuit-drum era, ever willing to compromise the quality of the show by allowing a full-blown party in the sanctum of the pannists' Savannah. Look, if you come to a pan-fest, you come to listen to pan, not to some DJ playing the ass. Taken from another perspective, can you see the organisers of Soca Monarch agreeing to a fete being staged at the next-door Jean Pierre Complex come Friday night? Or TUCO allowing a noisy party at the adjacent Skinner Park venue during Calypso Fiesta? I compliment TUCO on having the resourcefulness to have organised a post-competition party at the Park.
The insensitivity of Pan Trinbago officials aside, I should note, as I have done over the last decade, that of all the art forms that define this country, pan music is miles ahead of the others. It's not just the established large bands that entertain us with scintillating music. You listen to the small and medium bands and you watch the sheer exuberance of the pannists, young and old, and you must agree that, much the way reggae music put Jamaica on the global entertainment map, pan is our vehicle to the international stage.
It is no accident that steelband music has touched many countries in the world. Thanks to initiatives by a host of accomplished pannists, and no thanks to any government, one can enjoy the treat of Japanese people partying away to pan, Swiss nightclubs alive with our pan played by their people, and more, much more. It would be remiss of me if I didn't thank the architects of the website When Steel Talks for the sterling role they have played in promoting pan around the world. Shamefully for us, this group comes out of the US, not Trinidad and Tobago.
On another Carnival note, I must cuss my colleagues in the media for the surfeit of coverage we give to soca artistes in contrast to the near-zero features on calypso and calypsonians. Really, I must protest. Meaning no disrespect to the better performers in the upbeat, party version of this art form, some of them croak out (well, I can't say sing!) outlandish ditties that would hardly get past their toilets but for the gullibility of drunk party animals. William Munroe and his crew have mastered the art of marketing manure to the point where he wants the winner of that competition to pocket us$1m! And we in the media aid and abet him in promoting wine-wine, jam-jam, cluck-cluck and worse.
Meanwhile our very good calypsonians are outcasts in the land of calypso and pan. What a thing! Thanks to a few radio stations, I have enjoyed some very good songs from bards like Mudada, Brown Boy, Duane O'Connor and Sandra. I am yet to hear the likes of defending Monarch Karene Asche, Brian London, Luta, Chalkdust, Skatie, Bally, Marva, Kurt Allen and others. In fact, as I write (Friday morning), I cannot find the list of semi-finalists anywhere online, not even on TUCO's website: again, what a thing!
Politicians and promoters talk much about developing entertainment as one pillar of a diversified economy—and I believe it does have the potential to do that. Jamaica, besides being blessed with a multiplicity of talents, has capitalised on entertainment, which, I am sure, brings something to its GDP-table. That did not happen by accident, much the way Usain Bolt did not come "out of the blue", pun intended. We cannot pretend to love our culture even as we strangle our art forms with a kind of barbaric mindlessness.
We have already half-murdered mas, stripping it down to "bare essentials", in a manner of speaking. Now, we seem hell-bent on sidelining pan in Panorama and excluding calypso from Carnival. Are we collectively mad?