By Nalinee Seelal
February 03, 2012 – newsday.co.tt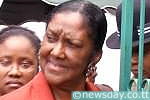 POLICE officers last night charged Arlene Blackman — Principal of Blackman's Private School in Maraval — with two counts of Cruelty to Children, under the Children's Act, Chap 46:01, Section III(I), for allegedly placing the head of two students in a toilet bowl at her school and flushing it.

The charges were laid by Woman Police Constable Ferrette and Cpl Rennie Grant, of St Clair Police Station and Port-of-Spain Criminal Investigations Department (CID), respectively. Instructions to charge Blackman, from Director of Public Prosecutions (DPP) Roger Gaspard SC, were given late last night after lead investigator Acting ASP Ajith Persad sought Gaspard's direction. Mrs Blackman is expected to appear before a Port-of-Spain Magistrate today to answer two counts of cruelty to children.
At about midday yesterday, a party of officers led by Woman ASP Lewis and including WPC Ferrette went to the school at Saddle Road, Maraval where Blackman, 67, was escorted out of the compound at 2 pm, placed in a marked police vehicle and driven to Port-of-Spain CID, where she remained up to press time last night.
Shortly after 3 pm, Blackman's attorney Pamela Elder SC arrived at CID and spoke with her client. Police sources revealed that Blackman appeared calm after being detained and was accompanied by her daughter Angela.
According to sources, at about 5 pm yesterday, students Kaya Rullow, eight, and Josiah Richmond, ten, the two Standard Three pupils of Blackman's Private School, accompanied by their respective parents, went to CID where they both pointed out Mrs Blackman to police, during what spurces termed as a, "verification exercise".
Carver Rullow, Kaya's father, told Newsday that his son was called to a room inside of Port-of-Spain CID, where the Principal was, and the boy was asked by police if Mrs Blackman was the person who placed his head in a toilet bowl and flushed it. Young Kaya, according to his father, told the police 'yes'.
The same procedure was carried out with Josiah, who also positively pointed out Mrs Blackman in the verification exercise which was supervised by Acting ASP Persad, who has been spearheading the probe for the past two weeks.
Following the verification exercise, police recorded statements from the parents of both schoolboys and then they were allowed to leave. Rullow told Newsday, at the end of the verification exercise, that he was pleased with the pace of police investigations into the report made by both him and Josiah's parents, regarding the toilet flushing incident.
Last week Tuesday (January 24), Rullow went to St Clair Police Station and reported that the school's principal placed his son's head in a toilet bowl, at the school compound, and flushed it.
Rullow also told police that his son informed him that he and another student were playing in the toilet area of the school, when they were confronted by Principal Blackman, who chastised them for playing near the toilet area and proceeded to flush their heads in one of a toilet bowl.
The following day (Janaury 25) Blackman was called to the St Clair Police Station, where she gave a statement to police which was later authenticated by a Justice of the Peace. The Principal was cautioned by the police before being allowed to leave.
On Friday last (January 27), Principal Blackman issued letters to parents of children attending her school, assuring that all was well and that she was determined to deal with issues involving male students in the toilet area of the school.
However, that same day, Nikesha Richmond, the mother of Josiah, took him to the Port-of-Spain CID where she reported that his head was also placed in a toilet bowl at the school's compound last week Tuesday and flushed.
On Saturday last, police accompanied by the two students and their parents went to the school where photographs of the toilet bowl were taken and a police draughtsman also took drawings of the toilet bowl.
http://www.newsday.co.tt/news/0,154753.html