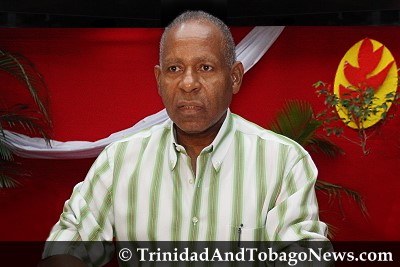 Former Prime Minister of Trinidad and Tobago, Patrick Manning, suffered a stroke last night and is at the San Fernando General Hospital.

A press release from his constituency office stated:
Former Prime Minister of the Republic of Trinidad and Tobago and Member of Parliament for San Fernando East, Honourable Patrick Manning last evening suffered a mild stroke.
Mr. Manning is presently undergoing tests and being warded at the San Fernando General Hospital under tight security. Visitation is restricted to his immediate family. The public will be reliably informed as updates arise.
Mr. Manning and his family would like to thank everyone for their continued prayers and support.
UPDATE: 8: 10 AM
Unconfirmed reports state that Mr. Manning is suffering with paralysis of the right side of his body. Unconfirmed reports further state that Cuban doctors are on the way to Trinidad to join the local medical team that is attending to him.
***
MANNING SUFFERS STROKE
Tuesday, January 24 2012
newsday.co.tt
FORMER Prime Minister Patrick Manning, 65, has been warded at the Intensive Care Unit (ICU) of the San Fernando General Hospital after suffering a stroke on Monday night.
Although the stroke has been described as mild, it is understood that Manning has displayed symptoms of paralysis on the left side of his body.
It has been reported that Manning's doctors from Cuba have been summoned to attend to him. (Manning has a history of being treated in Cuba where he has undergone several medical procedures included a surgery to remove a cancerous kidney in 2008). He also has a long standing heart condition.
Speaking with reporters this morning at the San Fernando General Hospital, Manning's wife, Hazel, said her husband will be kept for "a few days" at the hospital on doctors' orders.
"He is resting comfortably and they are going to keep him for a few days again," she said. "They are doing a number of tests on him and hopefully at the end of the time maybe they could tell us exactly what has happened."
"Between the time that the stroke took place and now he has improved. They have to do more tests. They have done a battery of tests. He is partially paralysed."
Hazel said her husband has been attempting to speak but has been unable to.
"He is attempting to get up and attempting to speak. He is recognising people and recognising what is being said. The doctors are pleased with what they are seeing. He is attempting to talk."
http://www.newsday.co.tt/news/0,154210.html
Manning suffers stroke
Worried supporters gathered outside the Accident and Emergency Department of the San Fernando General hospital early this morning as news spread that former Prime Minister Patrick Manning had suffered a cerebral embolism (stroke).
Manning in Intensive Care
Former Prime Minister warded at San Fernando Hospital
***
Dr. Keith Rowley's Statement on Patrick Manning
Good morning,
I am saddened at the news that former political leader of the PNM and Prime Minister Mr. Patrick Manning Member of Parliament for San Fernando East has been hospitalised. The news came as a complete surprise since only as recently as Friday last we were discussing matters of health and Mr. Manning was in good spirits and spoke positively of his fitness, diet and exercise regime.
At this time of great stress and serious concern we stand with the Manning family and call upon the party and the entire national community to pray for a speedy and complete recovery for a man who has given forty unbroken years of sterling service to our nation and the region.
On my own behalf and that of my family, the PNM particularly the constituency of Diego Martin West we join the rest of the nation in expressing our deep concern and positive expectations that all would be well, that Mr Manning will soon return to the active life he knew and loved.
Sincerely,
Dr. Keith Rowley
Leader of the Opposition
Political Leader of the PNM and
MP for Diego Martin West