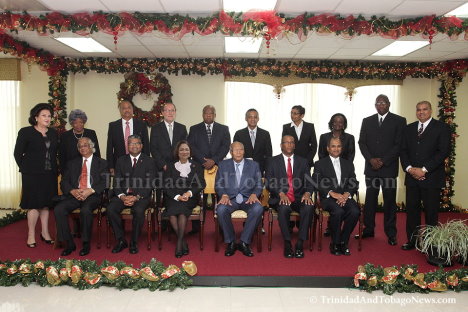 President: Silk comes with ability, good work
When it comes to high office holders, President George Maxwell Richards says the application for Senior Counsel (SC) status is not strictly followed. The President was speaking at the appointment ceremony of 16 attorneys-at-law to Senior Counsel—among them Prime Minister Kamla Persad-Bissessar, Attorney General Anand Ramlogan, Chief Justice Ivor Archie and Director of Public Prosecutions Roger Gaspard—which took place at Knowsley yesterday. The President said in many instances, the individuals had "made significant contribution" and "a body of sufficient work preceding their appointment to public office."

Appointments long overdue, says Max
President George Maxwell Richards has applauded the decision to award "silk" to 16 legal minds, whom he described as "well-deserving" appointees.
'Welcome to new Senior Counsel'
Karl Hudson-Phillips,QC, Former Attorney-General
Rowley: Awarding one's self silk, an abuse of process
OPPOSITION Leader Dr Keith Rowley yesterday described Prime Minister Kamla Persad-Bissessar's award of silk to herself as a "vulgarity" and an "abuse" of process, as he called for urgent reform of the archaic rules that govern how lawyers are made into senior counsel.