By Stephen Kangal
August 27, 2008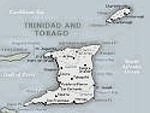 T&T has a tradition in being tardy in establishing maritime boundaries with its neighbours until it was unilaterally hauled before a compulsory UN Arbitral Tribunal by Barbados, spent millions of pounds in the costly litigation and an unfair and punitive boundary was imposed on us. It took us seventeen years to conclude the 1990 Treaty with Venezuela and we have been in discussions on the subject with Barbados since 1989.

We seem to believe that there will be profit or advantage in procrastination. On the contrary as the hydrocarbon and fishing potential of the un-delimited maritime areas are revealed and/or oil companies get involved or express an interest in future exploration, as in the Barbados case, the negotiating positions of the respective parties become inflexible and extremist. Secondly there has been a gradual creeping extension of state jurisdiction into areas that were formerly high seas.
The negotiation of a boundary with Grenada has been on the bilateral agenda for the past twenty years without any substantive talks being held. Cabinet first appointed a negotiating team via Cabinet Minute 1373 in August 1991 and approved a negotiating brief. We never sought to use our close relations as a basis to expedite the conclusion of a boundary and the considerations invoked as the basis for 2006 Judgment will make it more difficult to conclude the type of boundary that we desire to protect our existing hydrocarbon leases located beyond the median line.
As for the boundary with St. Vincent and the Grenadines this has not even been placed on the agenda. We have established a platform of excellent relations with PM Gonzales and this has good prospects for a speedy conclusion. How can we now initiate a boundary with St. Vincent when political union is in the making?
In the face of the Agreement reached this week relating to a future political integration with Grenada and St. Vincent by 2013 one wonders why was the maritime boundary question placed on the bilateral integration agenda for talks with Grenadian PM Tillman Thomas. Is this an indicator of the lack of commitment to the political integration process or is the Communique mere diplomatic nicety? Imminent political integration within four years preempts having separate maritime boundaries because political integration involves having a common and unified jurisdiction.
How can newly elected Prime Minister Tillman Thomas agree to integrate Grenada politically with T&T during his first visit to T&T and when he has not consulted with his Cabinet or the people of Grenada? Was the issue part of the election campaign that he won?
Trinbagonians will however, recall that a T&T unitary statehood with Grenada has been on the cards since 1961 without any headway being made. This whole premature political union issue lacks credibility, is full of contradictions and duplication and is not supported by Guyana and Barbados.
One must also query whether the MOU for the proposed Eastern Caribbean Union (ECU) signed by the four leaders is merely a strategic ploy being engineered and fomented by PM Manning to retard the growing secessionist movement in the sister isle of Tobago and/or to promote the fashionable image of Manning being projected as a Caribbean integrationist. PM Gonzales has described Manning as a "… toiler in the vineyard of regional integration".
A month ago Manning proposed a three-fifths majority to obtain parliamentary sanction of Parliament for his integration scheme. Now he states that all he needs is a simple parliamentary majority. Does PM Manning really understand what is involved in the political integration process from a T&T constitutional perspective that he can make these flippant statements? How can he inveigle PM Thomas to this process when he is on his first official visit to T&T?
Before we can enter into political integration discussions with our partners we must be certain that they are speaking for the electorate of the willing as well as for the Opposition because they are the future government of the respective countries. Political union cannot be treated flippantly because this can still lead to early disintegration.
Or is it Manning's personal aspirations for becoming the future Executive President of the ECU or is political integration an aberration of his?
The population of T&T will never agree to any future political union with these non-politically viable and insolvent pimples of the Caribbean Sea because we do not stand to gain anything from any banana republican appendages and economic/political millstones around our necks. We know of the heavy financial burden that we have been called upon to bear to keep 60,000 Tobagonians at bay.
Manning's mortar has more than the pestle. It has votes in mind.