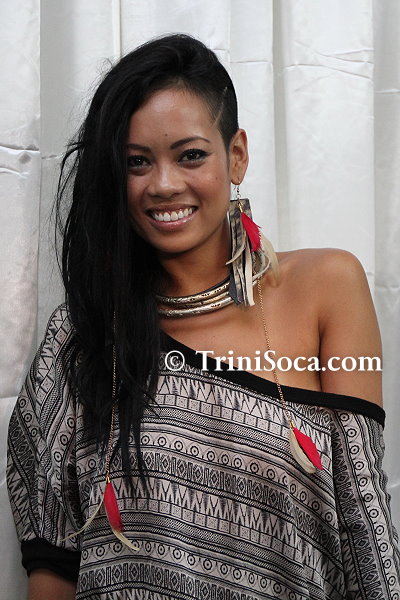 TrinidadandTobagoNews.com
October 28, 2011
Many Trinbagonians held their hands to their chests in anticipation of the nail-biting Project Runway finale. When Anya Ayoung-Chee, Trinidad and Tobago's representative won, social networking sites and blogs were abuzz with praise, mostly from Trinis, for her victory. Many of them also spent time justifying her win to other commentators who felt that Anya lacked the dexterity and the know-how to win the show.

Anya entered the competition with only four months of sewing experience underneath her belt and may have been perceived by some as an underdog. However, armoured with Heidi Klum's support, Anya's charm, confidence and physical attractiveness seemed to spellbind the judges and competitors alike. She was, from the onset, a favourite.
To her credit, she proved herself a more than competent designer and was an apt competitor learning quickly some skills required to make it to the competition's end.
Last night, Anya was crowned the ninth Project Runway winner, for which she will receive US$100,000 from L'Oréal Paris, a fashion spread in Marie Claire magazine, a $50,000 technology suite by HP and Intel and the opportunity to design and sell an exclusive collection on Piperlime.com. She was also voted fan favorite via Twitter, earning a $10,000 prize. Earlier in the season, Anya won a US$20,000 cash prize from L'Oreal Paris and an "advertorial" in Marie Claire magazine in the "This if for the birds" challenge.
We commend Anya for victory and her overall conduct on the show.
The WINNING collection displayed by Anya during the season finale of Project Runway season 9.
http://www.youtube.com/watch?v=wXFimFEFsjo
Related news:
Beauty takes Runway prize
Anya Ayoung-Chee made it work. And won. The 29-year-old former beauty queen (Miss Trinidad and Tobago Universe 2008) was crowned the ninth Project Runway champ Thursday night. Ayoung-Chee was also voted fan favorite via Twitter votes, earning a bonus $10,000 prize. (She pocketed another $20,000 earlier in the season during a challenge inspired by birds.)

Anya Ayoung-Chee Wins 'Project Runway' After Showing Lack of Confidence
Anya Ayoung-Chee has been named the champion of "Project Runway" season 9, beating out three other remaining contestants. The 29-year-old designer initially looked like she almost gave up her shot at winning the coveted title as she told Tim Gunn that she was not 100 percent happy with her collection.

Project Runway: "Finale Part Two"
It is strange to think back on last year's finale and recall that back then, we thought that season had really tested our collective Project Runway loyalty. Not for the way it played out over the first dozen episodes, of course, but for the way it ended.

Project Runway Finale video: Why did Anya win?
The best explanation why and how Anya Chee won Project Runway Season 9 is that everyone from Heidi Klum to Michael Kors has a bit of a girl crush on Anya. She's pretty, tall, and she's got a fancy vocab interwoven with a really cool British Island accent. And Anya likes prints.

The Fug Girls Predict the Project Runway Winner

Call it a come back
Anya Ayoung Chee reflects on her 'Project Runway' win

Minister: Anya made country proud
'Runway' designer gets support from Govt

INTERVIEW: Anya Ayoung-Chee dishes on Project Runway, her passion for design & overcoming a scandal!
This jovial island girl with the very sexy Caribbean accent and tenacious spirit was exactly everything I expected. With no cameras, no editors and no commercial breaks, she was everything you saw on TV – real laid back, funny and engaging. No pretense here, just Anya, in her true form…up close and very personal.

'Project Runway' Winner Anya Reveals All
In a shocking turn of events, underdog Anya Ayoung Chee won Project Runway last night! The judges met Anya this season, Trindad's former Miss Universe-turned-fledging-fashion designer, and were attracted to her aesthetic but very wary of her lack of practical skills.

Project Runway Winner Is Already Getting Calls from Celebrities
When she auditioned for Project Runway, she admitted she'd only been sewing for four months, but now Anya Ayoung-Chee is a bona-fide designer – with more than $100,000 in the bank.

Anya Ayoung-Chee wins 'Project Runway'
West Indies designer triumphs with tropical collection

'Project Runway' judges choke under pressure
There, I said it! One of my co-workers thinks that statement might be too nice, she thinks the show was rigged. And she presented convincing evidence, more on that later.
Project Runway Winner Anya Ayoung-Chee on Good Morning America
News Update: October 29, 2011
AWESOME ANYA
Celebration as former Miss T&T wins 'Project Runway'

Anya rules Project Runway
Former T&T Miss Universe representative Anya Ayoung-Chee pulled out yet another last-minute win and managed to steal both the Project Runway competition and the fan favourite competition.

'Anya, you're a boss!'
Pandemonium erupted on the rooftop of the Carlton Savannah Hotel in St Ann's on Thursday night as fans, family and supporters of Project Runway finalist Anya Ayoung-Chee reacted to her victory.

Tobago designer: A victory for the Caribbean
Local designers in Tobago have given Anya Ayoung-Chee the thumbs up on her victory in Project Runway, and for her naming her winning collection Tobago Love.

Rewarding Experience
Back in April, when METRO featured Anya Ayoung Chee on the cover of Issue 5, she spoke about her renewed passion for fashion. It was around that time the young designer applied to be on design reality show Project Runway and got accepted.

Govt to transform fashion industry
Minister of Trade and Industry has announced Government's intention to transform the fashion industry, following the recent triumph of local designer Anya Ayoung-Chee.

Anya's win: 'Govt may get much needed push'
Anya Ayoung-Chee's international success on Project Runway should encourage the Government to stop the talk shops and spring into action with respect to its support of the local fashion industry.

Now to fashion a booming industry
Like the rest of the nation, we join in congratulating T&T's former Miss Universe contestant, Anya Ayoung-Chee, who emerged as the winner of Season 9 of the hit American reality television series, Project Runway, on Thursday night.